Business Hub of Northeast Asia
Home
Why KOREA
Business Hub of Northeast Asia
Center of East Asia, Logistics Hub Korea
Korea possesses optimal logistics infrastructure connecting it with major countries and cities around the world.
Located between China and Japan, it is the center of aviation and maritime logistics connecting the Asia-Pacific region as well as Eurasia and the Americas.
Furthermore, it has the potential to establish a land-based route penetrating the Eurasian continent.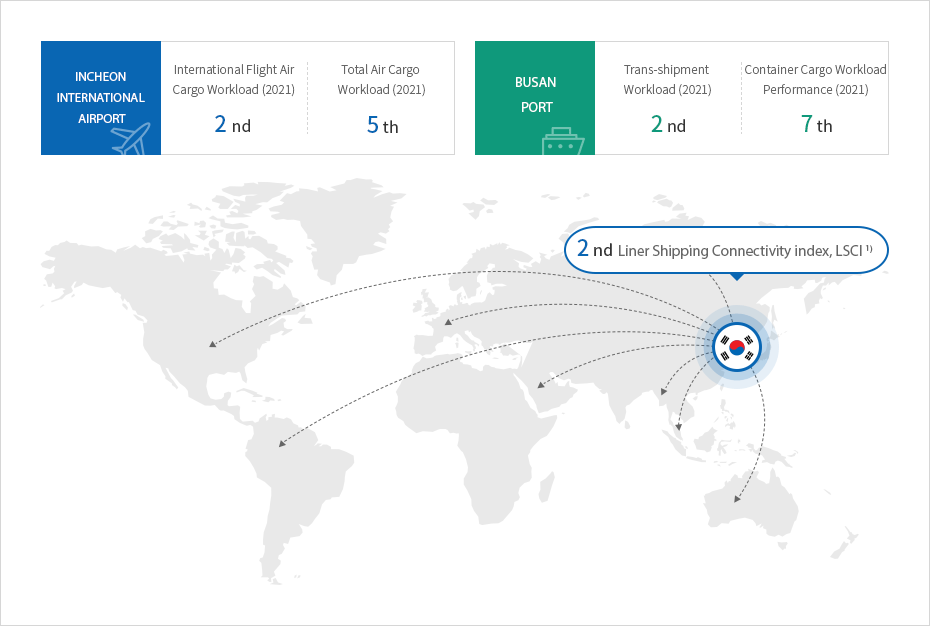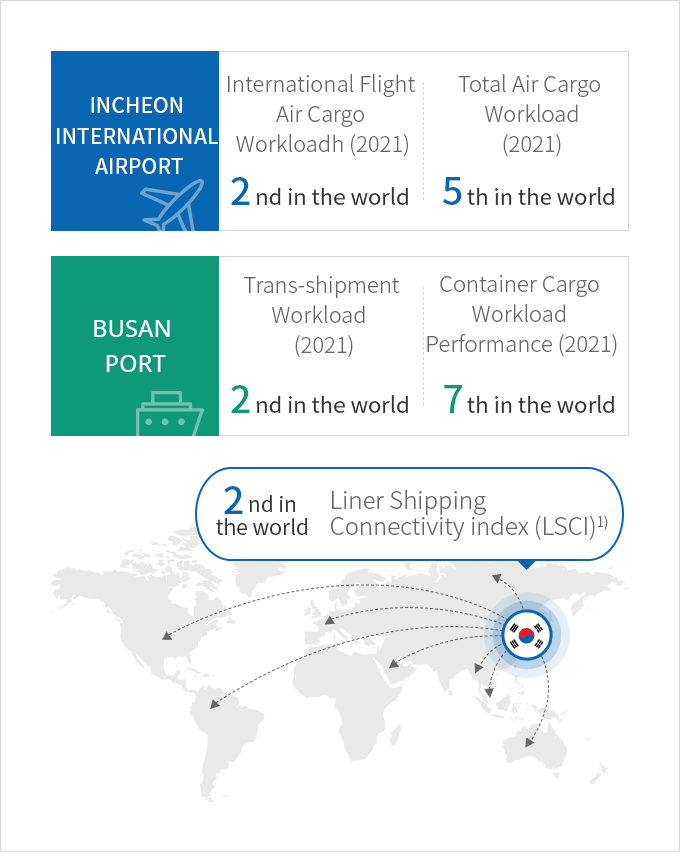 (3rd place) Liner Shipping Connectivity Index
Incheon International Airport

International Air Cargo Transport (2019) 3th
Total Air Cargo Volume (2019) 5th

Busan Port

Transshipment Ratio (2019) 2th
Cargo Volume (2019) 4th

1) (Linear Shipping Connectivity Index, LSCI) is a UNCTAD's indicator which shows a country's maritime shipping network from the year 2006 until now. The index evaluates data based upon six components which include the number of shipping liners servicing in a country, the number of vessels deployed from/to other ports on a monthly basis and the total container- carrying capacity, etc.
※ Source: Airports Council international (ACI), Busan Port Authority (2021), Ministry of Oceans and Fisheries, UNCTAD
World's No.3 Manufacturing Competitiveness, Export Powerhouse Led by the Manufacturing Industry
Korea ranked third in the Competitive Industrial Performance Index (CIP), which was released by the United Nations Industrial Development Organization (UNIDO) in July 2020, among 152 countries, followed by Germany and China. Even though the pandemic made it difficult for the country to safeguard growth through the expansion of domestic demand, Korea's exports rose rapidly backed by the competitiveness of manufacturing industry. As such, Korea is the 7th largest exporter in the world. Exports from Korea are led by the manufacturing industry, and major items of export include semiconductors, automobiles, oil products, automobile parts, and displays.
※ Source: KITA (2021)
Center of East Asia and Global Trade Hub, Korea
Korea has signed 18 agreements, covering 58 countries (as of July 2022) which include major economies like the EU, the U.S., and China, while continuing to pursue FTAs with emerging countries.
With its geographical advantage, Korea is a gateway to the global markets that links most of the largest economies.
※ Source: www.fta.go.kr (July 2022)
Korea's FTA Network
Korea's FTA Network : Status, Country

| Status | Country |
| --- | --- |
| In Effect (21 FTAs) | Chile, Singapore, EFTA1), ASEAN2), India, EU3), the U.S., Türkiye, Australia, Canada, China, New Zealand, Vietnam, Columbia, 5 countries in Central America4), UK, RECP5), Israel, Cambodia, Indonesia |
| Signed | Philippines |
| Under negotiation | Korea-China-Japan, MERCOSUR6), Russia, Malaysia, Ecuador, Uzbekistan, Korea-ASEAN FTA expansion , Korea-India CEPA upgrading, Korea-Chile FTA upgrading, Korea-China FTA under follow-up negotiation on service & investment, Korea-Central America FTA under accession negotiation with Guatemala , GCC7) |
| Resumed/ On the Agenda/ Under Reviews | Mexico, PA8), UK |
1) EFTA (European Free Trade Association) (4 countries) : Switzerland, Norway, Iceland, Liechtenstein 2)ASEAN (10 countries) : Brunei, Cambodia, Indonesia, Laos, Malaysia, Myanmar, the Philippines, Singapore, Vietnam and Thailand 3) EU (27 countries) : Austria, Belgium, Bulgaria, Croatia, Republic of Cyprus, Czech Republic, Denmark, Estonia, Finland, France, Germany, Greece, Hungary, Ireland, Italy, Latvia, Lithuania, Luxembourg, Malta, Netherlands, Poland, Portugal, Romania, Slovakia, Slovenia, Spain and Sweden 4) the Central America (5 countries) : Panama, Costa Rica, Honduras, El Salvador, Nicaragua 5) RCEP(Regional Comprehensive Economic Partnership) (14 countries except ROK) : Korea, 10 ASEAN member states, China, Japan, Australia, New Zealand 6) MERCOSUR(the Southern Common Market) (4 countries) : Argentina, Brazil, Paraguay and Uruguay7) GCC (Gulf Cooperation Council) (6countries) : Saudi Arabia, Kuwait, the United Arab Emirates, Qatar, Bahrain, and Oman. 8) PA(Pacific Alliance) (4 countries) : Chile, Colombia, Mexico and Peru.
* Source: www.fta.go.kr (as of Feb. 2023)