Home
Why KOREA
Rising E-Commerce Market
Rapid Growth of E-Commerce
The e-commerce industry is showing strong growth in Korea. The market size as of 2019 is the fifth largest in the world.
Retail e-commerce sales are the 5th largest in the world, and market research company eMarketer has forecasted that Korea will retain this rank in 2019.
The items most frequently traded via online marketplace are tickets and travel arrangements, food and beverage and personal care products.
Country-by-Country Forecast of Retail E-Commerce
As of 2019 (Unit: a hundred million dollars)
Country-by-Country Forecast of Retail E-Commerce : countries by rank,amount

| Ranking | 1 | 2 | 3 | 4 | 5 |
| --- | --- | --- | --- | --- | --- |
| Country | China | US | UK | Japan | Korea |
| Amount | 19,348 | 5,869 | 1,419 | 1,154 | 1,035 |
※ Source: eMarketer (May 2019)
Annual E-commerce Sales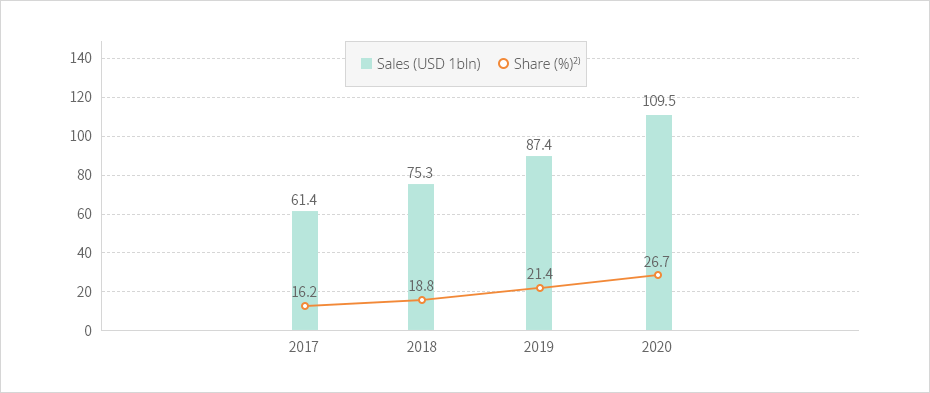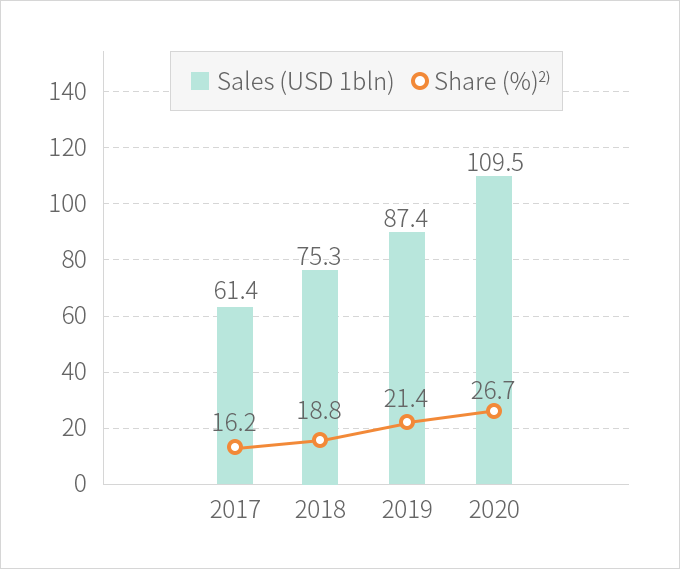 Annual E-commerce Sales : Sales(USD 1bln), Share (%)

| | 2015 | 2016 | 2017 | 2018 | 20191) |
| --- | --- | --- | --- | --- | --- |
| Sales(USD 1bln) | 48.7 | 56.5 | 83.3 | 103.4 | 104.9 |
| Share (%)2) | 13.2 | 15.5 | 21.4 | 24.5 | 28.3 |

1) 2019 data are 11 month cumulative update (Jan-Nov, 2019)
2) E-commerce share of total retail sales (%)
※ Source: Ministry of Economy and Finance <November Report on Online Shopping Trends>