Home
Incentives
Location Support
Free Economic Zones
Free economic zones are special locations designed to actively attract foreign investment by improving the business environment and living conditions for foreign-invested companies as well as facilitating business activities and investment by relieving regulations.
Tax benefits, deregulation for free economic activities, convenient living conditions and administrative services guarantee free and broad business activities. Foreign educational institutions and hospitals, language services, permission to use foreign currency and broadcasting, tax reductions or exemptions, and financial support also assist business activities in addition to various incentives for foreign-invested companies.
Free economic zones formed in Incheon, Busan-Jinhae, Gwangyang Bay area, Hwanghae, Daegu-Gyeongbuk, the east coast area, and Chungbuk will grow as hubs in global networks, centers of logistics in Northeast Asia, and the high value-added services and technology industries.
※ After cancellation of the designation of Saemangeum as a free economic zone in April 2018, the Saemangeum project is still underway in accordance with the Special Act on Saemangeum.
Requirements for occupancy
Foreign-invested companies / Manufacturing, logistics, medical, education, foreign broadcasters, financial institutions, etc.
Designation of Free Economic Zones
Designation of Free Economic Zones : Category,Location,Area,Airport and Port,Promotion Period,Business District,Eligible Business

| Category | Incheon | Busan·Jinhae | Gwangyang Bay Area | Daegu·Gyeongbuk | Hwanghae | East Coast Area | Chungbuk |
| --- | --- | --- | --- | --- | --- | --- | --- |
| Location | Incheon (Yeonsu-gu, Jung-gu, Seo-gu) | Busan (Gangseo-gu), Gyeongsangnam-do (Changwon) | Jeollanam-do (Yeosu, Suncheon, Gwangyang), Gyeongsangnam-do (Hadong) | Daegu, Gyeongsangbuk-do (Gyeongsan, Yeongcheon, Pohang) | Gyeonggi-do (Pyeongtaek) | Gangwon-do (Gangneung, Donghae) | Chungju |
| Area (㎢) | 123.47 | 51.06 | 69.5 | 18.93 | 4.39 | 4.81 | 4.88 |
| Airport and Port | Incheon International Airport, Port of Incheon | Gimhae International Airport, New Port of Busan | Port of Gwangyang, Yeosu Airport | Daegu International Airport | Port of Pyeongtaek/Dangjin | Yangyang International Airport, Port of Donghae | Cheongju International Airport |
| Promotion Period | 2003-2022 | 2003-2023 | 2003-2022 | 2008-2022 | 2008-2020 | 2013-2024 | 2013-2020 |
| Business District | Songdo, Yeongjong, Cheongna | New port, Myeongji, Jisa, Dudong, Ungdong | Gwangyang, Yulchon, Sindeok, Hwayang, Gyeongdo, Hadong | Daegu, Yeongcheon, Gyeongsan, Pohang | Pyeongtaek BIX, Hyeondeok | Bukpyeong, Mangsang, Okgye | Biomedical, Biopolis, Aeropolis |
| Eligible Business | International business, IT, BT, R&D, aviation, logistics, tourism, finance, leisure, high-tech | New port logistics hub, international business, high-tech parts, materials, R&D, vacation, recreation, leisure | Logistics, manufacturing, steel, machinery, assembling, metals, new renewable energy, tourism, leisure | High-tech transport, parts, materials, high-tech medical, IT convergence | Automobile parts, logistics, electronics, chemical, distribution, commerce, residence, tourism, medical, etc. | High-tech materials, logistics, business, medical, tourism, marine tourism, nonferrous metals, ultralight high-tech parts and materials, residence, education, medical, culture, etc. | IT, BT, high-tech and R&D facility, air transport, logistics, air training, aviation maintenance and parts manufacturing, aviation education and research, medical R&D, high-tech clinical test center, research hospital |
※ Source: Korean Free Economic Zone Planning Office website
Incentives
Incentives : Category,Tax,Tax Reduction or Exemption Period and Rates,Requirements for Tax Reductions or Exemptions
Category
Tax
Tax Reduction or Exemption Period and Rates
Requirements for Tax Reductions or Exemptions
Foreign-Invested Company in Free Economic Zone
National tax
Tariff
5 years from the date of import notification
Imported capital goods
Local tax
Acquisition tax
Up to 15 years under ordinances: 100%
Manufacturing: At least USD 10 million
Tourism: At least USD 10 million
Logistics: At least USD 5 million
Medical institution: At least USD 5 million
R&D: At least 1 million
Property tax
Financial Support
Cash grants

Decide by negotiation, but support at least 5% of FDI
establishment fee for factory and research facility, employment, education and training subsidy
(Requirements) Foreign-invested companies with a foreign investment ratio of at least 30%
decide after reviewing engagement in new growth engine industries, technology transfer effects, and job creation

Infrastructure support
Road, rail, airport, port, sewage, waste disposal, etc.
(Requirements) 50% support from government expenditure; 100% if decided by the Free Economic Zone Committee
Foreign education,
research institution support
Preparation, initial operation, and construction expenses for foreign education and research institutions
(Requirements) Meet evaluation elements, such as reputation and contribution to Korea's development
Rental fees

Lease government-owned land for 50 years (renewable for an additional 50 years)
Rental fees are 10/1,000 of the site value

Other Support
Relief from labor regulations

Exclusion from applying mandatory clauses to hire people subject to protection of employment, such as people with disabilities, men of national merit, and seniors, etc.
exclusion from regulations on the period and duties for dispatched workers and permission of unpaid leave, etc.

Free foreign exchange transaction
Permission of direct current transaction of USD 10,000 or under
Exclusion of application of the 「Seoul Metropolitan Area Reorganization Planning Act」

Exclusion from restrictions on activities in overconcentration control regions and growth management regions stipulated in the Seoul Metropolitan Area Readjustment Planning Act
exclusion from overconcentration charges, total quantity regulation on population-concentrating facilities, regulation on large-scale development projects
※ Source: Korean Free Economic Zone Planning Office website
Free economic zones are designed to offer business-friendly environments for foreign-invested companies and improve worker living conditions. Many regulations are relieved in these zones in order to maximize freedom and give companies autonomy over their business activities. These zones also act as special economic zones offering various investments to actively attract foreign investment.
Saemangeum (designation of the free economic zone cancelled in April 2018) is a national project directly developed and supported by the government in accordance with the Special Act on Saemangeum. Saemangeum offers land at affordable prices and flexibility in the land utilization plan.
Status of Free Economic Zones and Saemangeum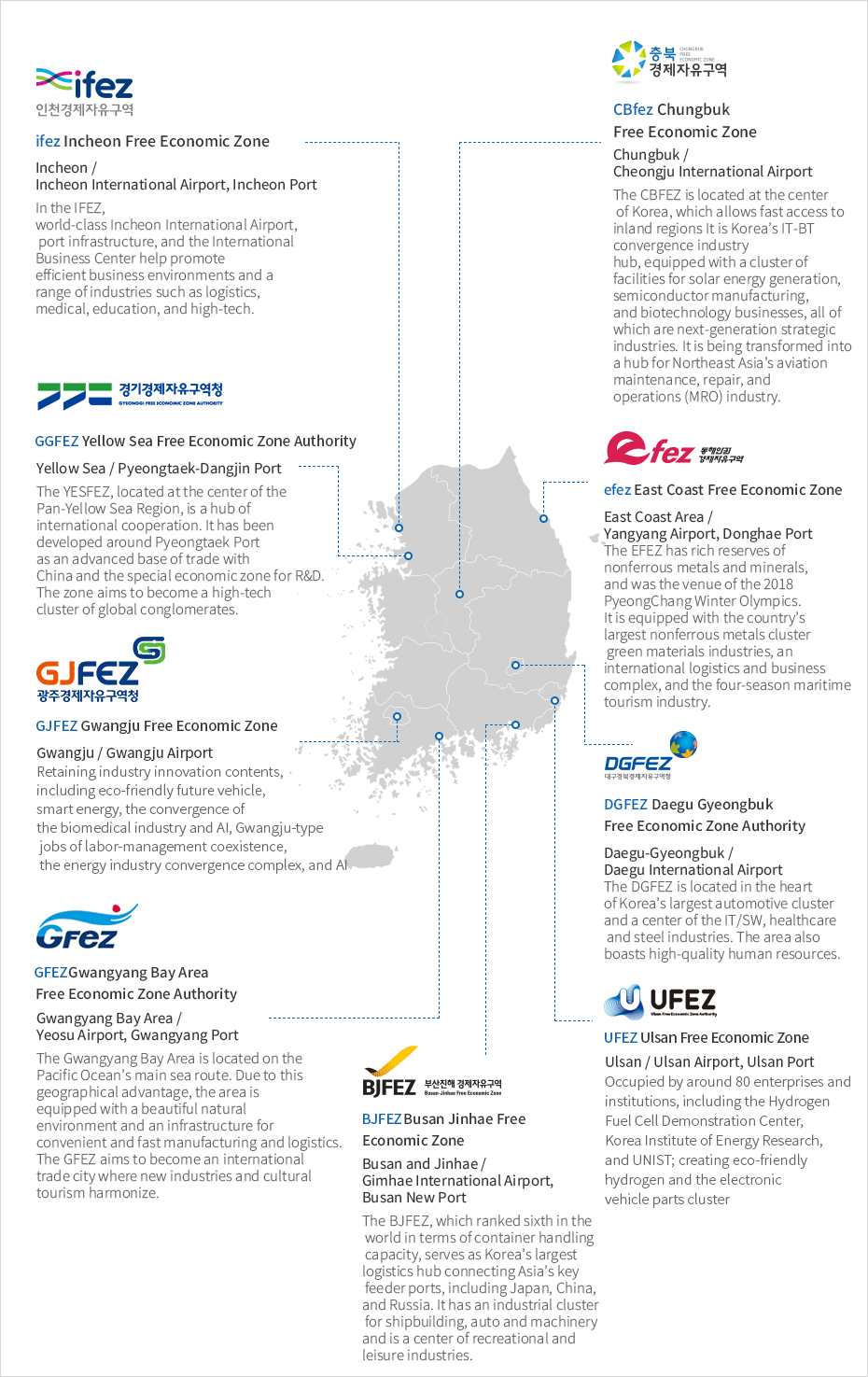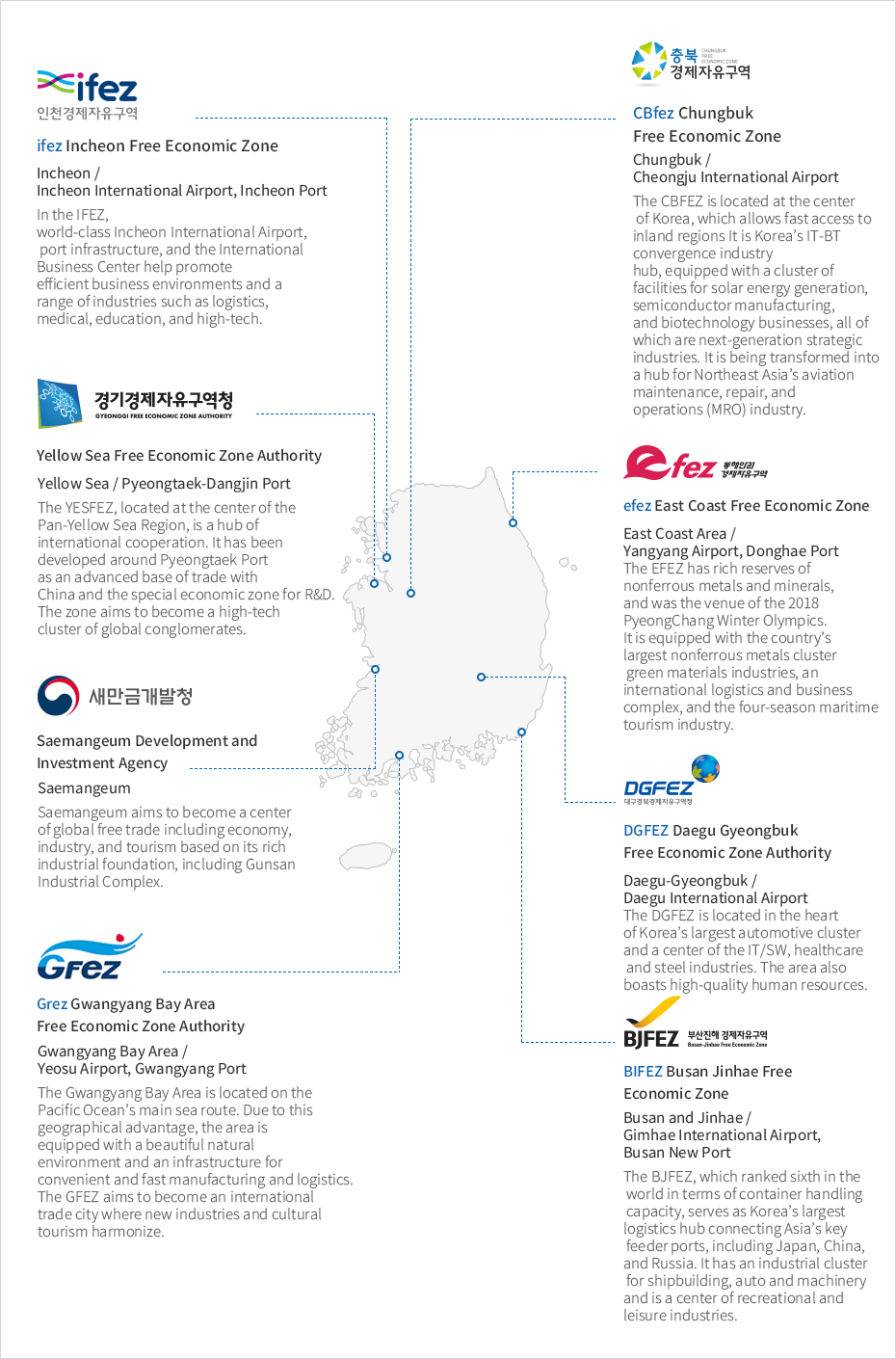 Incheon Free Economic Zone

Incheon / Incheon International Airport, Incheon Port In the IFEZ, world-class Incheon International Airport, port infrastructure, and the International Business Center help promote efficient business environments and a range of industries such as logistics, medical, education, and high-tech.

Chungbuk Free Economic Zone

Chungbuk / Cheongju International Airport The CBFEZ is located at the center of Korea, which allows fast access to inland regions It is Korea's IT-BT convergence industry hub, equipped with a cluster of facilities for solar energy generation, semiconductor manufacturing, and biotechnology businesses, all of which are next-generation strategic industries. It is being transformed into a hub for Northeast Asia's aviation maintenance, repair, and operations (MRO) industry.

East Coast Free Economic Zone

East Coast Area / Yangyang Airport, Donghae Port The EFEZ has rich reserves of nonferrous metals and minerals, and was the venue of the 2018 PyeongChang Winter Olympics.It is equipped with the country's largest nonferrous metals cluster, green materials industries, an international logistics and business complex, and the four-season maritime tourism industry.

Yellow Sea Free Economic Zone Authority

Yellow Sea / Pyeongtaek-Dangjin Port The YESFEZ, located at the center of the Pan-Yellow Sea Region, is a hub of international cooperation. It has been developed around Pyeongtaek Port as an advanced base of trade with China and the special economic zone for R&D.

Daegu Gyeongbuk Free Economic Zone Authority

Daegu-Gyeongbuk / Daegu International Airport The DGFEZ is located in the heart of Korea's largest automotive cluster and a center of the IT/SW, healthcare, and steel industries. The area also boasts high-quality human resources.

Saemangeum Development and Investment Agency

Saemangeum Saemangeum aims to become a center of global free trade including economy, industry, and tourism based on its rich industrial foundation, including Gunsan Industrial Complex.

Gwangyang Bay Area Free Economic Zone Authority

Gwangyang Bay Area / Yeosu Airport, Gwangyang Port The Gwangyang Bay Area is located on the Pacific Ocean's main sea route. Due to this geographical advantage, the area is equipped with a beautiful natural environment and an infrastructure for convenient and fast manufacturing and logistics.The GFEZ aims to become an international trade city where new industries and cultural tourism harmonize.

Busan Jinhae Free Economic Zone

Busan and Jinhae / Gimhae International Airport, Busan New Port The BJFEZ, which ranked sixth in the world in terms of container handling capacity, serves as Korea's largest logistics hub connecting Asia's key feeder ports, including Japan, China, and Russia. It has an industrial cluster for shipbuilding, auto and machinery and is a center of recreational and leisure industries.