Home
About Us
Who We Are
Invest KOREA
Invest KOREA
Invest KOREA (IK) is a national investment promotion agency whose aim is to support the establishment of foreign businesses in Korea. The agency was established within the Korea Trade-Investment Promotion Agency (KOTRA).
Invest KOREA promotes Korea's investment environment abroad and provides comprehensive services to foreign companies ranging from consultations, notifications of investments, establishment of corporations, support for business activities to complaint handling to foreign companies doing business here.
Introduction to Invest KOREA
Invest KOREA (IK) staff members consist of KOTRA employees, specialists, public officials dispatched from related government ministries and agencies, and experts from the private sector, all who have extensive knowledge and experiences in the field of foreign investment.
Invest KOREA cooperates closely with 36 overseas investment-focused offices. Invest KOREA works on foreign investment policies formulated by the Ministry of Trade, Industry and Energy and the Foreign Investment Committee.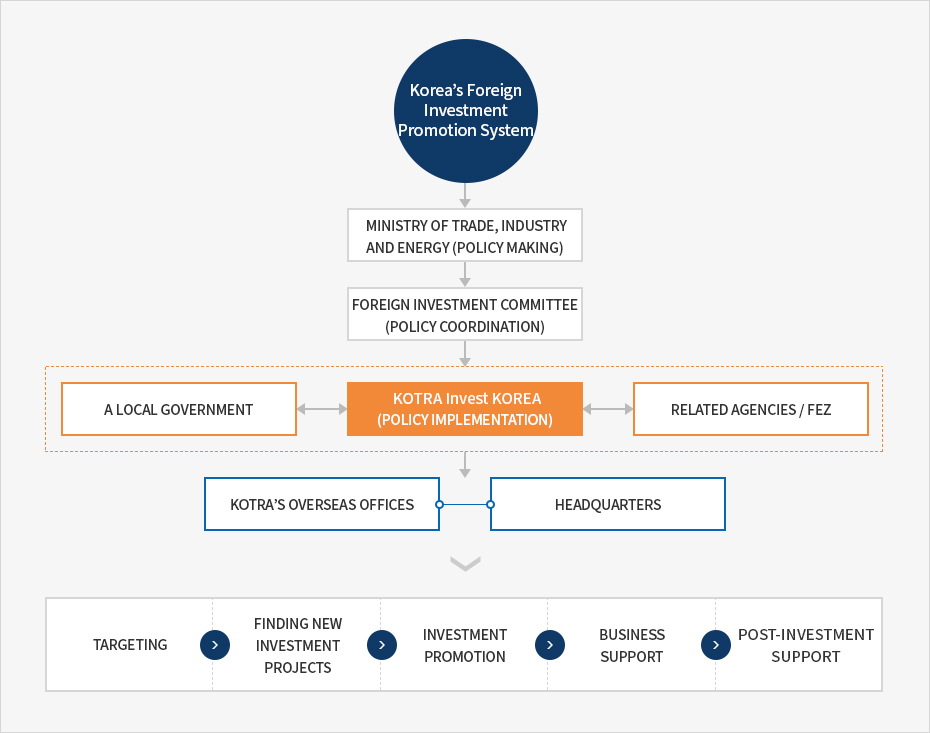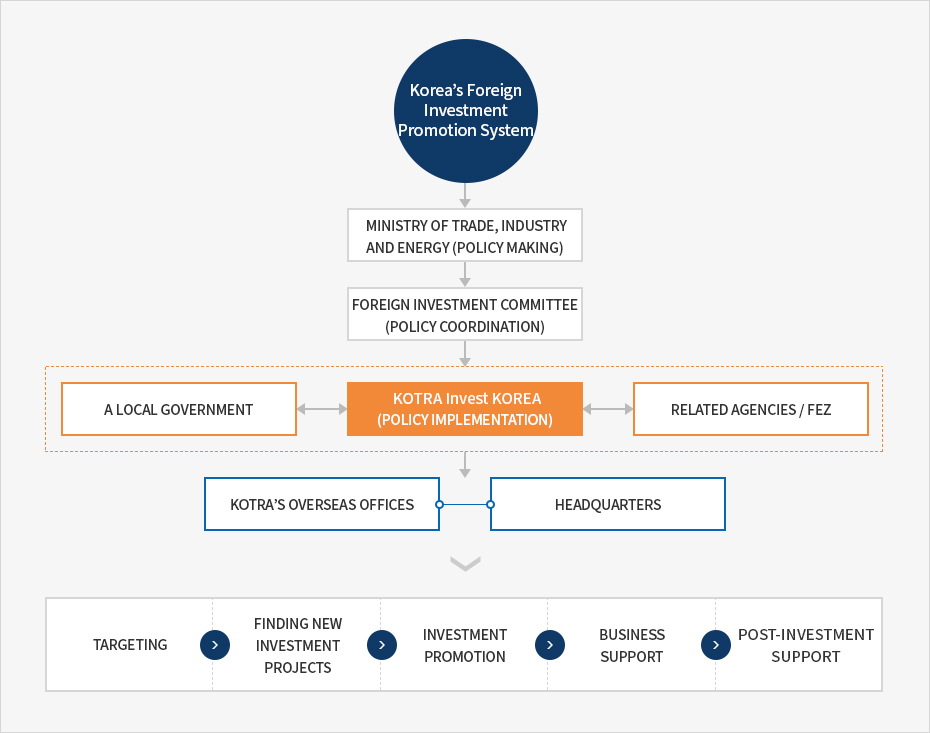 Korea's Foreign Investment Promotion System
MINISTRY OF TRADE, INDUSTRY AND ENERGY (POLICY MAKING)
FOREIGN INVESTMENT COMMITTEE (POLICY COORDINATION)
A LOCAL GOVERNMENT ↔ KOTRA IK (POLICY IMPLEMENTATION) ↔ RELATED AGENCIES / FEZ
KOTRA'S OVERSEAS OFFICES, HEADQUARTERS

TARGETING
FINDING NEW INVESTMENT PROJECTS
INVESTMENT PROMOTION
BUSINESS SUPPORT
VIGILANCE

Investment Promotion Office
Invest KOREA has 36 overseas offices and 64 investment promotion specialists around the world to assist and attract foreign investment to Korea. Overseas offices work as points of contact with potential foreign investors by providing a range of information related to investment in Korea and carrying out a variety of investment promotion activities, such as investor relations sessions.
History
2015

Jan -

Foreign Investment Ombudsman oversees the Investment Aftercare Division

2012

Feb -

Foreign Investor Support Office opens

2010

Aug -

The function of research is added to Invest KOREA's mission

2009

Invest KOREA ranked 1st among APEC countries for investment promotion websites by the Foreign Investment Advisory Service under the World Bank.

2006

Nov -

Invest Korea Plaza, a foreign business incubation center, opens

2003

Dec - The KISC is re-launched as Invest KOREA

1999

Oct -

Office of the Foreign Investment Ombudsman opens

1998

Jul -

The Korea Investment Service Center (KISC) is established at KOTRA.

Apr

- The government designated KOTRA as the national investment promotion agency of Korea.

1995

Aug -

KOTRA added supporting function for attracting foreign investment