Immigration Support (Red Carpet Service)
Home
About Us
What We Do
Immigration Support (Red Carpet Service)
One-stop immigration service is available in Korea from arrival to departure for foreign investors who have met certain qualifications. Basic and premium services are provided depending on the importance of the foreign investment. Basic service provides assistance for the entry process and transportation, while premium service offers transportation throughout the schedule, meeting arrangements, and a project manager. Pick-up from the gate and customs, immigration, and quarantine (CIQ) procedures are available only at Incheon International Airport where KOTRA's Global Buyer Support Center is located, and no such service is provided during departure procedures.
※ CIQ is an abbreviation formed from initial letters of Customs, Immigration, Quarantine
Request Procedures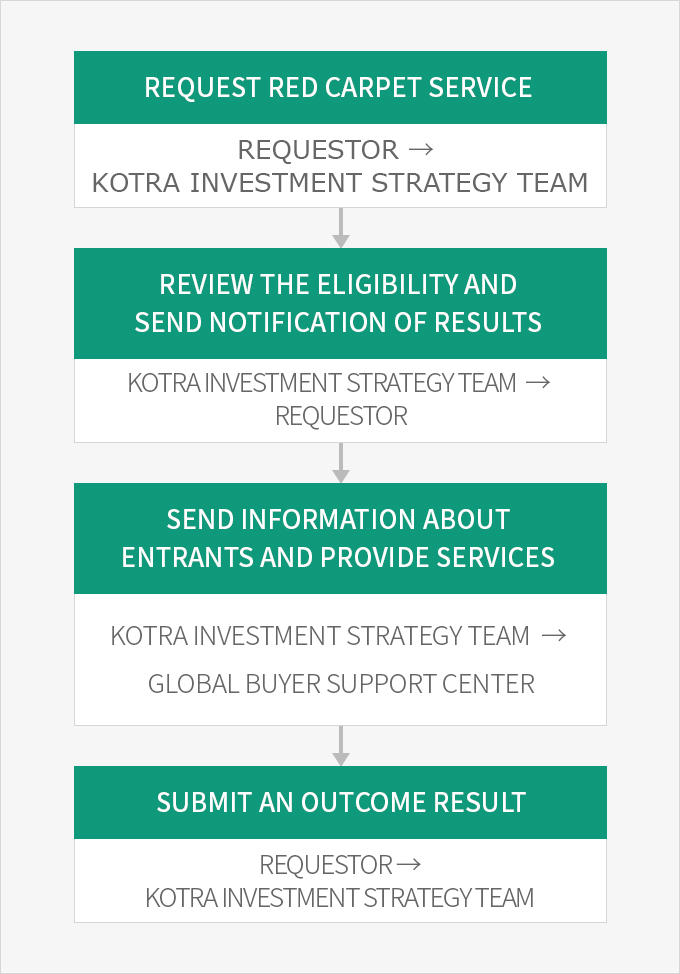 Request red carpet service requestor → KOTRA Investment strategy team
Review the eligibility and send notification of results KOTRA Investment strategy team → requestor
Send Information about entrants and provide service KOTRA Investment strategy → Global buyer support center
Submit an outcome result requestor → KOTRA Investment Strategy Team

※ Requestors : KOTRA's overseas offices, local governments and related agencies, investment promotion project managers, etc.