Complaint Handling (Foreign Investment Ombudsman)
Home
About Us
What We Do
Complaint Handling (Foreign Investment Ombudsman)
Introduction of the Foreign Investment Ombudsman
The Office of the Foreign Investment Ombudsman is a complaint handling body for foreign-invested companies which has been devoted to resolving challenges faced by foreign-invested companies during business activities in Korea since 1999. The foreign investment ombudsman is commissioned by the President of the Republic of Korea. The office operates a Home Doctor system with specialists from various areas, including finance, accounting, law, industrial sites, taxation, and labor, and strives to create a more stable environment for foreign-invested companies.
Korea's foreign investment ombudsman system has been praised by international society, including the United Nations Conference on Trade and Development (UNCTAD) and the Asia-Pacific Economic Cooperation (APEC), as a successful case for facilitating cross-border investment and preventing investor-state disputes (ISD). Many countries, including Russia, Kazakhstan, Brazil, and Vietnam, have benchmarked Korea's system. The office works hard to prevent any possible problems and improve Kora's investment environment by utilizing accumulated data from previous cases.
Link to the Office of the Foreign Investment Ombudsman
Organization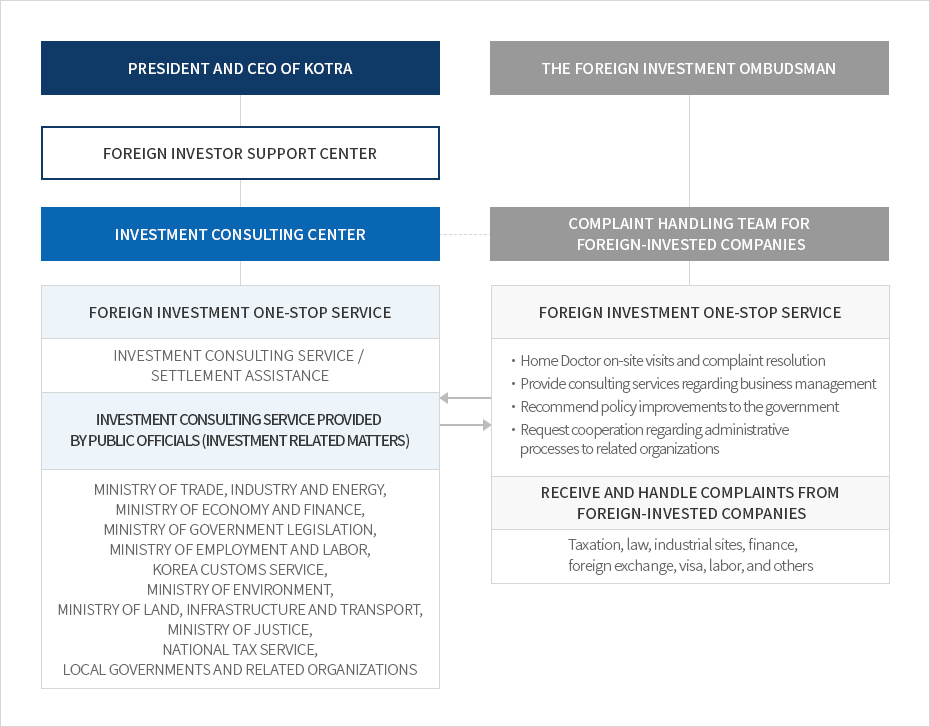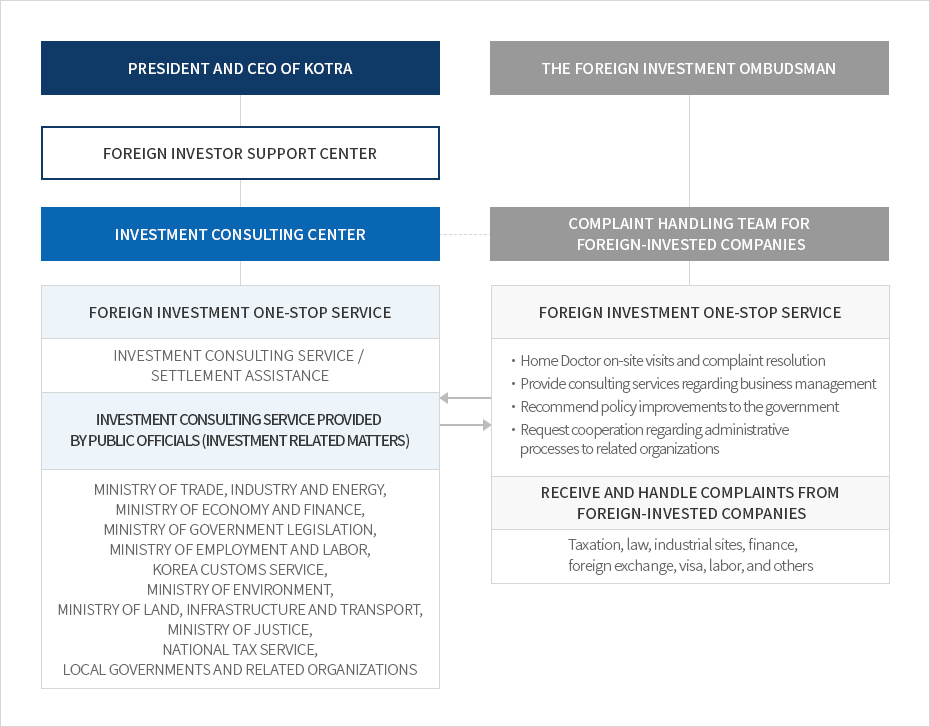 President and ceo of KOTRA
Foreign Investor support center
Investment consulting center
foreign investment one-stop serviceinvestment consulting service / settlement assistance
investment consulting service provided by public officials (investment realated matters) ministry of trade, industry and energy, ministry of economy and finance, ministry of government legislation, ministry of employment and labor, KOREA CUSTOMS service, ministry of environment, ministry of land, infrastructure and transport, ministry of justice, national tax service, local governments and related organiztions
The foreign investment ombudsman
complaint handling team for foreign-invested companies
foreign investment one-stop service

Home Doctor on-site visits and complaint resolution
provide consulting services regarding business management
recommend policy improvements to the government
request cooperation regarding administrative processes to related organization

receive and handle complaints from foreign-invested companies taxation, law, industrial sites, finance, foreign exchange, visa, labor, and others

Complaint Handling Procedures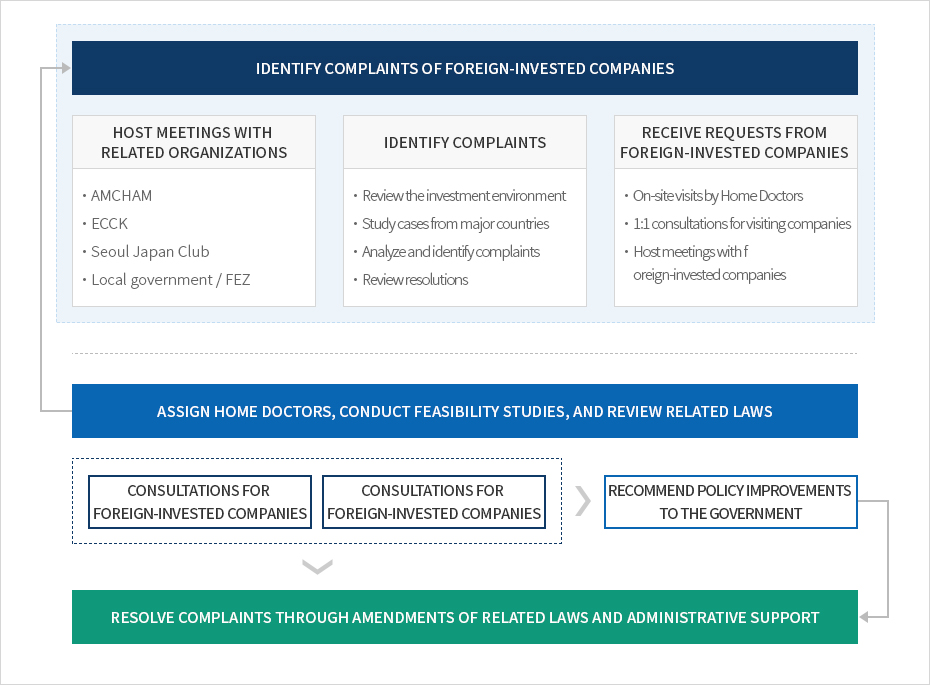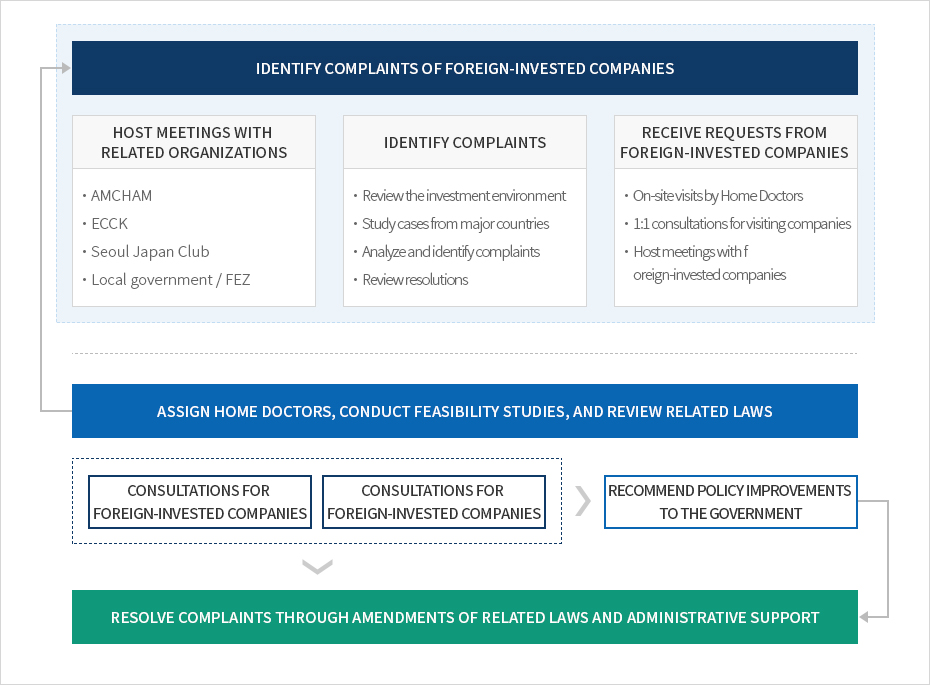 IDENTIFY COMPLAINTS OF FOREIGN-INVESTED COMPANIES
HOST MEETINGS WITH RELATED ORGANIZATIONS
AMCHAM
ECCK
Seoul Japan Club
Local government/ FEZ
IDENTIFY COMPLAINTS
Review the investment environment
Study cases from major countries
Analyze and identify complaints
Review resolutions
RECEIVE REQUESTS FROM FOREIGN-INVESTED COMPANIES
On-site visits by Home Doctors
1:1 consultations forvisiting companies
Host meetings with oreign invested companies
ASSIGN HOME DOCTORS, CONDUCT FEASIBILITY STUDIES, AND REVIEW RELATED LAWS
CONSULTATIONS FOR FOREIGN-INVESTED COMPANIES
RECOMMEND POLICY IMPROVEMENTS TO THE GOVERNMENT
RESOLVE COMPLAINTS THROUGH AMENDMENTS OF RELATED LAWS AND ADMINISTRATIVE SUPPORT

Home Doctor Services
Home Doctors are members of the Complaint Handling Team under the Office of the Foreign Investment Ombudsman.

A total of ten Home Doctors are available from the fields of law (2), finance (2), taxation (1), accounting (1), industrial sites (1), HR-labor (1), IT and intellectual property rights (1), and bio (1).
Home Doctors, who are specialists in specific industries and regions, visit foreign-invested companies, and identify and handle their complaints.

Home Doctor Hotline and On-Site Visits

Assign a Home Doctor for each local government and foreign-invested company in the region; operate a hotline connecting Home Doctors, the local government, and the company to better identify and handle complaints
Home Doctors, who are specialists in specific industries and regions, visit foreign-invested companies, and identify and handle their complaints.