Home
M&A Investment
Project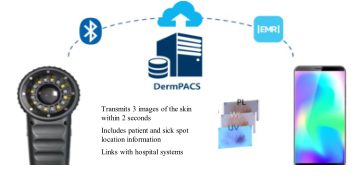 [Pharma / Healthcare]
AI based Dermatology Image Management System
• Skin disease diagnosis assistance system based on AI - The company's skin disease diagnosis assistance system integrates AI and accumulated big data, making it significantly more accurate than conventional methods of visual diagnosis. The AI module uses skin lesion data to make diagnosis by a dermatologist quicker and easier, thus enabling patients to be treated in time, instead of conventional methods of
diagnosis based on the naked eye and/or portable microscope. In addition, it is a system that standardizes and manages images of the skin, such as medical radiographic images, thereby maximizing the efficiency of the entire diagnosis and follow-up management process.

• AI healthcare industry - The AI healthcare industry is growing significantly every year due to the rapid development of IT and AI technology,
aging, and the increased demand for a better quality of life. The size of the global AI healthcare industry stood at USD 46.5 million in 2019 and is expected to reach USD 22.79 billion in 2023, at an annual average growth rate of 48.7%.

Investment Requirement

Amount : 2.5M
Region : North America , Southeast Asia , Middle East , etc (오세아니아)