Theme Parks
According to TEA/AECOM's annual Global Attractions Attendance Report, about 235.6 million visitors attended the top 25 theme parks in the world in 2015. Magic Kingdom at the Walt Disney World Resort in Lake Buena Vista, Florida, ranked first in the world, with about 20 million visitors in 2015. In Korea, Everland and Lotte World respectively were ranked 14th and 16th place.
The recent trend toward high-tech theme parks is increasing the adoption of cutting-edge communication, IT, robot and other technologies in the industry. High-tech theme parks differ from general theme parks in that the main focus is on the advanced technologies, such as virtual reality, simulation and hologram technologies. Examples of high-tech theme parks overseas include Epcot (Florida, USA), Space World (Kitakyushu, Japan) and Joypolis (Yokohama, Japan).
Success in the digital entertainment industry, which aims to entertain through technology, relies heavily on how well quality cultural content can be integrated with cutting-edge technologies. Moreover, when the industry has a stable foothold in local communities, establishing a steady supply of human and technological resources, they can create synergy with high-tech theme parks.

Foreign Direct Investment & Success Cases
The biggest amount of foreign direct investment made in tourism-related industries in 2016 was the USD 517 million spent in the lodging industry, followed by USD 297 million in the food industry and USD 31 million in the leisure and sports industry. While foreign direct investment in tourism-related industries tends to fluctuate each year, the lodging industry continues to attract the greatest amount. Meanwhile, two of Korea's most hightly anticipated tourism districts are Saemangeum District and Taean Tourism and Leisure City.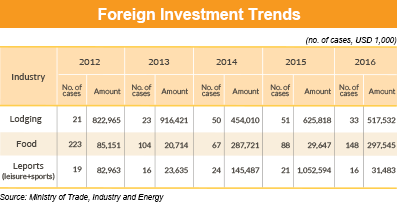 Saemangeum District
Upon completion of the Saemangeum Seawall and in compliance with the Comprehensive Saemangeum Development Plan, the Saemangeum Tourism Complex is being developed into a world-class hub for the tourism and