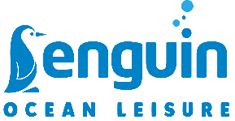 Penguin Ocean Leisure's vision is to create a more valuable marine leisure experience for your friends and family. The company manages the sales and operation of PENGUIN, the world's first semi-submarine that also works as a motorboat. Most notably, PENGUIN's environmentally friendly electric motor system does not cause pollution. The material of the boat windows are made of acrylic material —the most suitable material for underwater viewing. The windows are also 200 times stronger than regular glass.
For the first time in Korea, Penguin Ocean Leisure raised funds through debt- based crowdfunding. In 2016, the company was designated as a promising exporter by Ulsan City, demonstrating its massive potential for growth. Its most famous product is the PENGUIN 2.0, which was selected as 'Product of the Year' at the Korea International Boat Show.
Penguin Ocean Leisure plans to launch a new model called FLYING PENGUIN, which is equipped with an outboard motor. Powered by gasoline, it is expected to be two times faster than the previous model and easier to maintain and repair.
PENGUIN boats are currently enjoyed all over the world, including five-star resorts in the Maldives and the Seychelles Islands. The company plans to enter the Australian, Caribbean and Southeast Asian market in the future.