Forms of Foreign Direct Investment
Home
Investment Guide
Investment Process
Qualifications and Requirements of FDI
Forms of Foreign Direct Investment
Foreign Direct Investment (FDI) is defined as an investment with an investment threshold contributed by foreigners amounting to at least KRW 100 million and being 10% or more of the total amount. Foreigners are able to do business in Korea without restraint, except as otherwise prescribed by regulations.
Types of FDI include the acquisition of stocks of domestic companies, long-term loans (five or more years) from parent companies outside Korea, and investments in non-profit corporations in the fields of science and technology.
Cases in which a foreign company uses unappropriated earned surpluses for building new or additional factories are now also considered FDI. Objects of investment to acquire stocks or shares include foreign currency, capital goods, proceeds from acquired stocks, etc., and industrial property rights.
Acquisition of equity shares
Acquisition by a foreigner of shares or equity shares of a corporation or a business to establish steady economic relations with a Korean corporation/business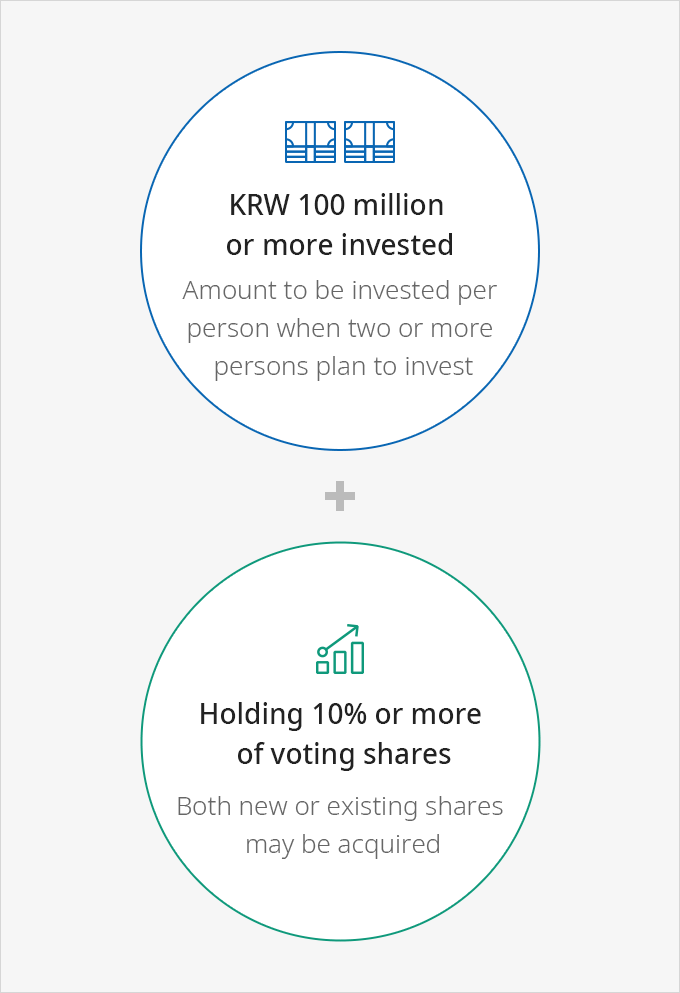 Exceptional requirements for equity share acquisition
It is treated as a foreign direct investment when a foreigner assigns or appoints an executive to the domestic Korean company even when investing 100 million won or more but acquiring less than 10% of equity shares of the domestic company.
Long-term loans
A loan of at least 5 years from a foreign-invested company's overseas parent company or a company having a capital investment relationship with the company to the foreign-invested company
Long-term loans may be provided only when equity investment has been made, and the average loan period of at least 5 years must be satisfied.
※ Calculation of loan period: The sum of 'the partial repayment or early repayment amount multiplied with the percentage of the repayment in relation to the total loan amount'
Contribution to a non-profit organization ("NPO"), etc.
A contribution to an NPO or a company is recognized as FDI where the foreign contribution amount is at least KRW 50 million and accounts for 10 percent or more of the total amount and where all of the following conditions are met.
※ Related laws: Article 2 (1) 4 of the Foreign Investment Promotion Act, Articles 2 (2) and (4)-(7) of the Enforcement Decree of the Act
The NPO or company has independent research facilities in the fields of science and technology, and meets any one of the following conditions:
There are at least five regular workers with a bachelor's degree in a science or technology field and at least three years' experience in research, or with a master's or higher degree in a science and technology field
The NPO conducts R&D activities in the fields of natural science and engineering as classified under the Korean Standard Industrial Classification (KSIC)
Other contributions to an NPO by a foreigner that meet one of the following conditions, and which are recognized as foreign direct investment by the Foreign Investment Committee:
An NPO established for the purpose of promotion, etc. of science, art, medical services, or education, and which continues to conduct its business with a view to developing professionals in the relevant fields and to expanding international exchanges
An NPO that is a regional office of an international organization that engages in international cooperation business between civilians or governments
Reinvestment of Unappropriated Earned Surplus
Investment of a foreign-invested company's unappropriated earned surplus for certain purposes such as construction of expansion of a factory (in this case, the foreign-invested company shall be considered a foreigner and the foreign investment amount shall be calculated by multiplying the amount spent and the foreign investment ratio.)
Foreign direct investment by the method of using the retained earnings enforced on August 5, 2020
A foreign invested company applies (uses) its retained earnings to the construction of a new factory or extension of its factory or to any of the purposes stipulated in the Presidential Decree

In such case, the foreign-invested business is considered to be a foreigner, and the foreign-invested amount will be the amount obtained by multiplying the amount applied/used for such purpose by the ratio of equity investment by the foreigner(s).

Applications

Construction or extension of factory or research facility (manufacturing business): When the foreign investor purchases land or building to put up a production/ research facility, pays rent or building construction expenses, provides funds for installing infrastructure facilities including power and communication facilities for building a new production/research facility, or intends to purchase capital goods or research equipment and materials
Construction or extension of factory or research facility (Non-manufacturing business): When the foreign investor purchases land or building to put up a production/ research facility, pays rent or building construction expenses, provides funds for installing infrastructure facilities including power and communication facilities for building a new production/research facility, or intends to purchase capital goods or research equipment and materials