Home
Investment Guide
Investment Process
Factory Establishment
Establishment Procedures
Factory Establishment
A factory is a site of a manufacturing business, usually a complex consisting of buildings, factory buildings, or subsidiary facilities. The manufacturing business must be included in the Korean Standard Industry Classification promulgated by the Korean Commissioner of Statistics.
Factory Establishment in Industrial Complexes
Industrial complexes, unlike individual locations, are fully equipped, and it is therefore not necessary to apply for many additional licenses or permissions. As the types of businesses are limited for each complex, reviewing time can be significantly reduced. Industrial complexes submit residence contract applications to management institutions which have the same administrative effects as applications for approval of factory establishment at individual locations.
In general, an approval is given within five days after an application, or within ten days if a consultation with a relevant organization is necessary. After receiving an approval of occupancy, a procedure from the factory establishment, a completion report, and a confirmation by an official in charge following a site visit, the factory registration procedure is the same as for an individual location.
Factory Establishment at Individual Locations
Factory establishment at individual locations under the Act on Industrial Integration and Factory Establishment
There are many laws related to factory establishment at individual locations; therefore, it is important to thoroughly review all laws and regulations. An application will be reviewed and approved within twenty days of submission in accordance with the Factory Establishment Approval System of Korea. If an application is submitted to the offices of a local government that has jurisdiction over the candidate site, an approval will be given within fourteen days. If agenda processing is applied, the approval period will be shortened to within seven days.
- Agenda processing :
This is a system that improves efficiency in administrative works and services by collectively processing the authorization and permission, which would be otherwise executed under different laws.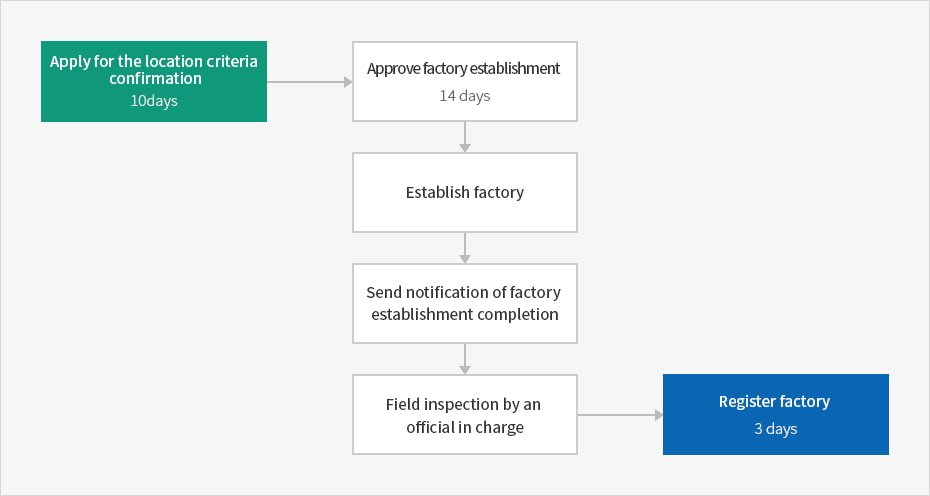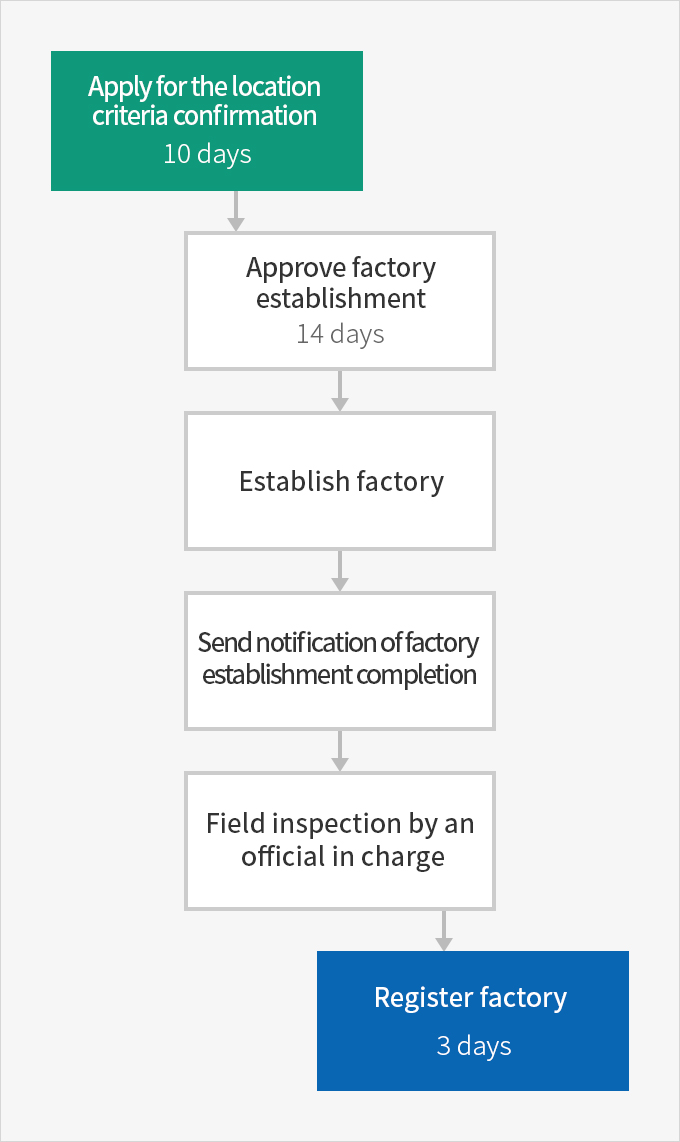 Apply for the location criteria confirmation (10 days)
Approve factory establishment (14 days)
Establish factory
Send notification of factory establishment completion
Field inspection by an official in charge
Register factory (3 days)

Apply for the location criteria confirmation

An applicant may check the possibility of factory establishment on the site in advance. The result is reported within ten days of filing an application.

Approve factory establishment

After the factory establishment has been approved, land leveling, infrastructure installation, and construction are carried out.

Establish factory

If the factory establishment completion is reported within two months following construction and installation of machinery and equipment, an official visits the site to check whether the factory is operating in accordance with the original application. If no issues are found, the factory can be registered within three days of the notification of factory establishment completion.
Factory Establishment at Individual Locations under the Support for Small- and Medium-sized Enterprises Establishment Act
Cost Reduction Program designed to help small-sized manufacturers cut business expenses
제조업 중소기업 창업 부담금 면제 내용 표로 부담금, 관련법 정보 제공
Cost Allocation
Relevant Legislation
Allocated costs
Article 138 of「Local Autonomy Act」
Farmland preservation costs
Article 38(1)「Farm Land Act」
Grassland management costs
Article 23(6)「Grassland Act」
Allocation base
Article 35(2)-1「Clean Air Conservation Act」
Allocation base
Article 41(1)-1「Water Quality and Aquatic Ecosystem Conservation Act」
Allocated costs
Article 12(1)「Act on the Promotion of Saving and Recycling of Resources」
Allocated costs of waste management
Article 12(1)「Act on The Promotion of Saving and Recycling of Resources」
Allocated water bills
Article 19(1)「Act on The Improvement of Water Quality and Support for Residents of The Han River Basin」
Article 30(1)「Act on Water Management and Resident Support in the Geum River Basin」
Article 32(1)「Act on Water Management and Residents Support in the Nakdong River Basin」
Article 30(1)「Act on Water Management and Resident Support in the Yeongsan and Seomjin River Basins」
Costs of alternative forest management
Article 19(1)「Moutainous District Management Act」