Business Hub of 21C Northeast Asia
Home
Why Jeollabuk-do
Business Hub of 21C Northeast Asia
Jeollabuk-do is located closer than you think.
Best investment destination for foreign companies
Jeollabuk-do is located in the nearest proximity to China-only 500 km away from the world's largest market. It is also a neighbor of other nearby large markets including China, Japan and Russia.
Almost 60 cities with over 1 million population including China's Shanghai and Chengdu, Japan's Tokyo and Russia's Vladivostok can be reached within the distance of a two-hr flight.
In addition, it is positioned in the core area to reach any place in Korea within a half a day. Therefore, it is a geographically beneficial area, making it suitable as a business hub of Northeast Asia.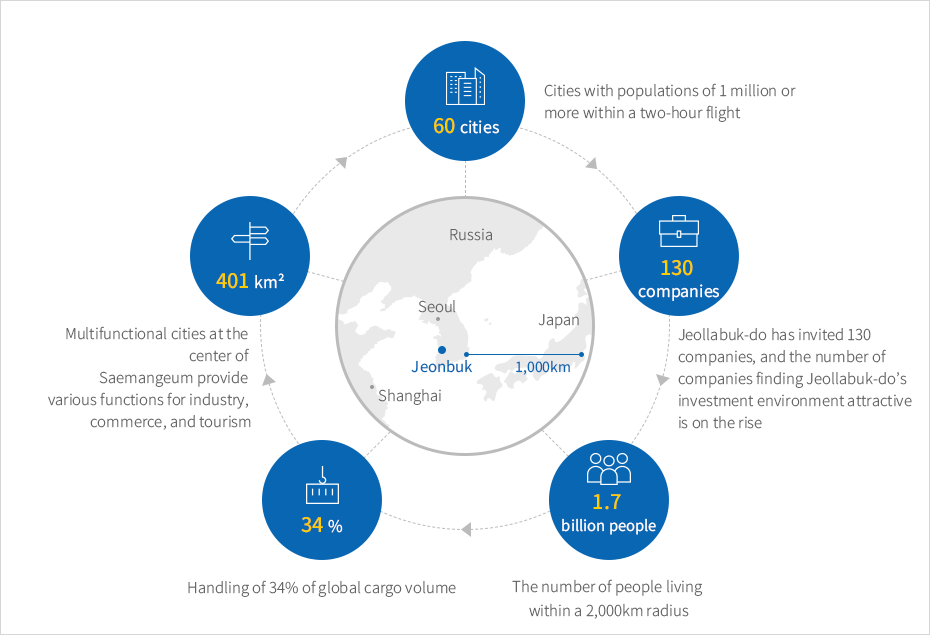 60 cities - Cities with populations of 1 million or more within a two-hour flight
130 companies - Jeollabuk-do has invited 130 companies, and the number of companies finding Jeollabuk-do's investment environment attractive is on the rise
1.7 billion people - The number of people living within a 2,000km radius
34% - Handling of 34% of global cargo volume
401 km² - Multifunctional cities at the center of Saemangeum provide various functions for industry, commerce, and tourism

Best transportation environment
Jeollabuk-do is located in the nearest proximity to China and has a deep water port that large ships can access. In addition, it offers an optimized business environment where an excellent transportation infrastructure is built including airport, roads and railroads.
You can get anywhere in the country within half a day from the province. It boasts an optimal transportation environment with four railroad lines including KTX, ports and airpots as well as eight exxpressways connecting the North, South, East and West.
Expressway

Honam, Seohaean, 88 Olympic
Daejeon↔Tongyeong, Iksan↔Jangsu, Gochang↔Damyang, Jeonju↔Gwangyang, Saemangeum↔Jeonju (underway)

Railroad

KTX, Honam line, Jeolla line, Janghang line
Honam line: Seoul↔Iksan↔Mokpo
Jeolla line: Seoul↔Iksan↔Jeonju↔Yeosu
Janghang line: Seoul↔Cheonan↔Janghang↔Gunsan↔Iksan
Saemangeum↔Gunsan↔Iksan (under construction)

Seaport

Gunsan Port: 28 ships, Saemangeum New Port: 18 ships, Dangjin Port: 36 ships, Gwangyang Port: 78 ships

※ Saemangeum New Port (under construction)

Average depth: 20~45 m (the deepest in Korea), annual cargo volume 80 million tons

※ The nearest port from Gunsan and China

(Unit, km)

Major domestic ports: Shanghai, Chengdu, Gunsan, Incheon, Pyeongtaek, Gwangyang, Busan

| | Gunsan | Incheon | Pyeongtaek | Gwangyang | Busan |
| --- | --- | --- | --- | --- | --- |
| Shanghai | 684 | 832 | 886 | 750 | 887 |
| Chengdu | 558 | 624 | 576 | 783 | 889 |

Airport

Gunsan Airport (downtwon area), Muan International Airport (1hr 30mins),Cheongju International Airport (1hr 30mins),Incheon International Airport (2hrs 30mins), Saemangeum international airport (underway)