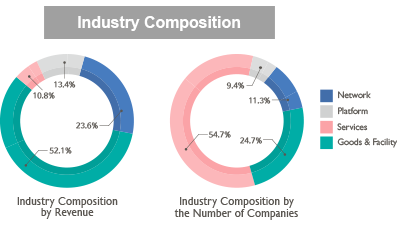 stronger dependence on goods and equipment.
The IDC also forecasted that modules and sensors that connect end points to networks will dominate hardware purchases, as hardware spending approaches USD 400 billion by 2020. Yet hardware will be the slowest growing IoT technology group, according to the market research firm.
As for IoT services, majority of the revenue came from facility management (entry and exit control, facility management, attendance management services, off-site facility control and monitoring, building crack monitoring, etc.), safety (locationbased child tracking services, personal safety apps for women, safety management for workers, toxic chemical monitoring at industrial plants, etc.) and environment-related technology (air and water quality monitoring and management, environmental oversight, disaster control for fire and floods, etc.).
Revenue from manufacturing, or KRW 95.51 billion (USD 85.96 million) accounts for 15.4 percent. This is largely attributable to the Korean government's policy effort to promote smart factories, including the Banwol and Sihwa Industrial Complex Smart Factory Cluster established last year.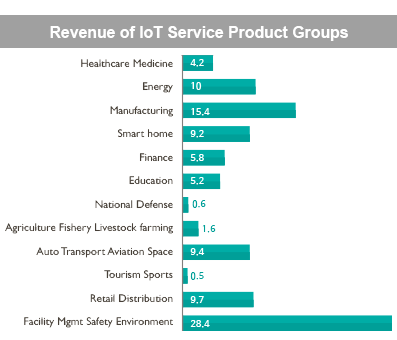 Growth of Smart Home Technology
Smart home and energy-related technology is showing the sharpest increase in revenue year-on-year. As mobile telecommunication operators entered the smart home market, the market's total revenue jumped by 54.4 percent, or KRW 20.06 billion (USD 18 million). Energy-related services also saw a 52.3 percent growth from 2015. In a report released in July 2016, the Hyundai Research Institute (HRI) suggested that smart home, smart cities and connected cars are the three most promising IoT-related products. The global market for smart homes is forecast to expand from USD 9.8 billion in 2015 to USD 43 billion in 2020; the number of devices connected to smart homes