Did you know?
BuyKOREA provides buyers and sellers with
a quick and easy video conferencing solution!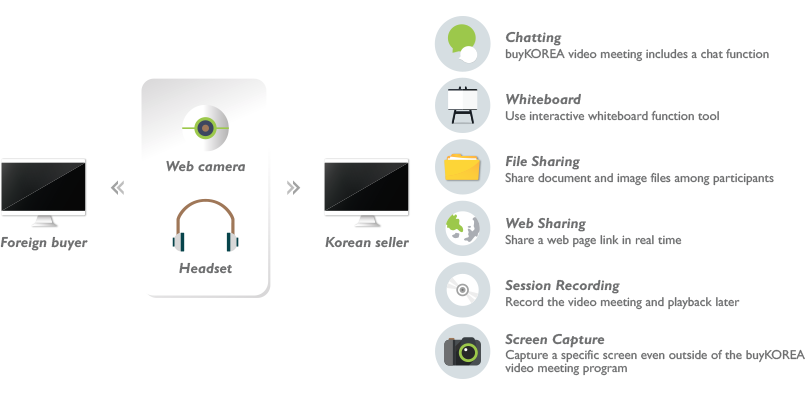 What is BuyKOREA?
BuyKOREA is a global B2B online marketplace operated by KOTRA that connects Korean manufacturers and suppliers with buyers worldwide.
BuyKOREA offers an online one-stop export marketing solution for Korean SMEs to promote their products overseas and view buying offers from global buyers.
It's Korea's first B2B e-marketplace that supports online payment and EMS shipping discounts.
BuyKOREA's Video Conferencing System
We're well aware that face-to-face meetings can be costly and time consuming.
Video conferences are thus an effective solution that dramatically reduces costs for business trips and long-distance communication.
With BuyKOREA, buyers and sellers can easily share audio and video files in real time.
All you need is a webcam, a headset, BuyKOREA's video meeting program (eMEET) and an Internetconnected device for video and audio transmission.
With just a few clicks, you'll be able to do business with some of Korea's most distinguished companies through our video conferencing system.