Daejeon Technopark declared new vision of "partner for the fourth industrial revolution"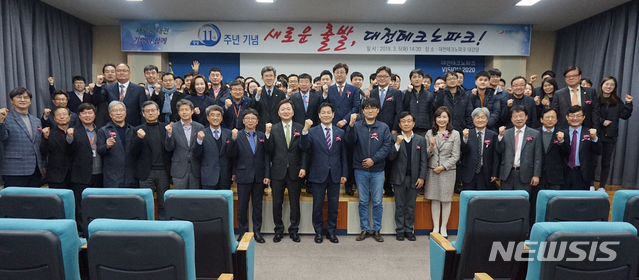 Daejeon Technopark, in its 11th-year anniversary of establishment on March 5, declared its new vision "fourth industrial revolution partner leading innovative growth of the regional industry".

Daejeon Technopark held the 11th year ceremony, declaring new vision, and 3 directions for management reform measures including innovative management, value management, and human-oriented management.

In particular, it is set to run a working group consisted of experts from the related industries to create future growth engines in the coming decade, with a focus on reshaping region's main industries into high-functioning, high-efficiency, and high value-added ones.

For more details, it plans to actively look for new projects such as hydrogen and energy industry, smart manufacturing, AI and big data, block chain, and self-driving cars in line with government's policy direction.

For instance, it will attract 20 companies by fostering hydrogen and energy industry, identify 10 startups, foster 100 venture companies, create 2000 jobs, and achieve KRW 400 billion sales by 2030.

Daejeon Technopark has supported 15 companies listed on KOSDAQ and about 10,000 SMEs in the last decade, creating about 17,000 jobs.

joemedia@newsis.com
** This article was translated from Korean.
Source: Newsis (March 5, 2019)