Home
Investment Guide
FDI Procedures
FDI System
Foreign direct investment (FDI) refers to the acquisition of the stocks or shares of a Korean company by a foreigner in order to build lasting economic relations, and generally involves participation in management or technology transfer.
FDI is conceptually different from a general portfolio investment in that the purpose is to exercise actual influence on business management. In addition to cash investments, FDI includes investment in consumer goods, industrial property rights, intellectual property rights, domestic real estate, shares of a foreign listed company, and other object of investment as recognized in the Foreign Investment Promotion Act.
A long-term loan with maturity of not less than five years provided by a foreign investor to Korean company can also be recognized as FDI.
FDI Procedures
Foreign investment procedures consist of four stages: foreign investment notification, remittance of investment funds, registration of incorporation & business, and registration of foreign-invested company. In comparison to the corporation establishment process for Koreans, foreigners only have to add two more steps—'foreign investment notification' and 'foreign-invested company registration'—the rest is fundamentally the same. However, the process of 'registration of incorporation' is unnecessary when registering an individual business.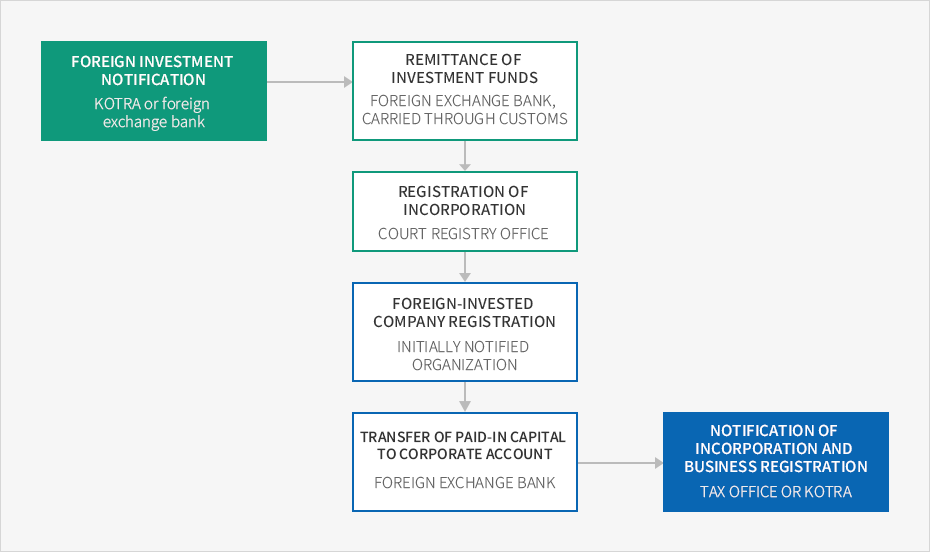 Foreign investment notification: (KOTRA or foreign exchange bank)
Remittance of investment funds: (foreign exchange bank, carried through customs)
Registration of incorporation: (court registry office)
Foreign-invested company registration: (initially notified organization)
Transfer of paid-in capital to corporate account: (foreign exchange bank)
Notification of incorporation and business registration: (tax office or KOTRA)

Entry Methods
There are two ways foreigners may enter the Korean market for business purposes: either a foreigner (individual or corporation) may establish a local corporation or a foreign corporation may open a branch or liaison office in Korea.
(※ The above FDI procedures apply to the process of establishing a corporation.)