Home
Investment Guide
Investment Process
Investment Notification
Capital Increase
Foreign Direct Investment Flowchart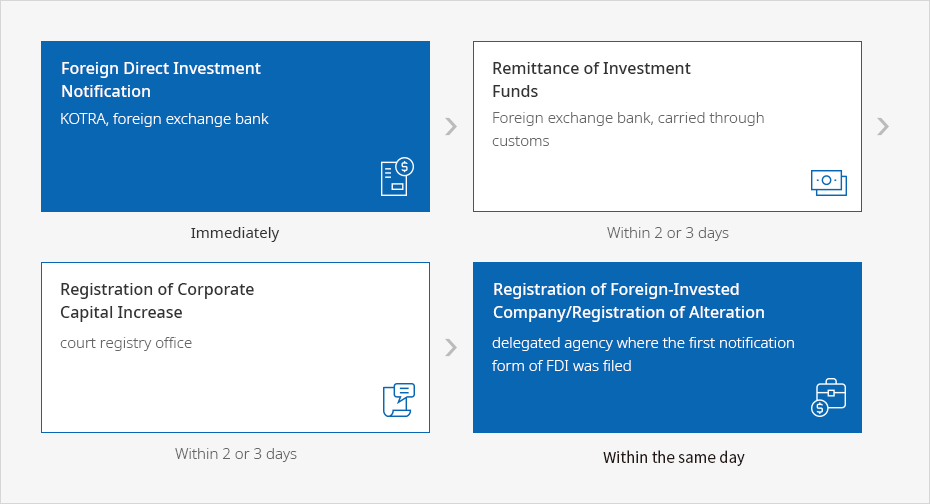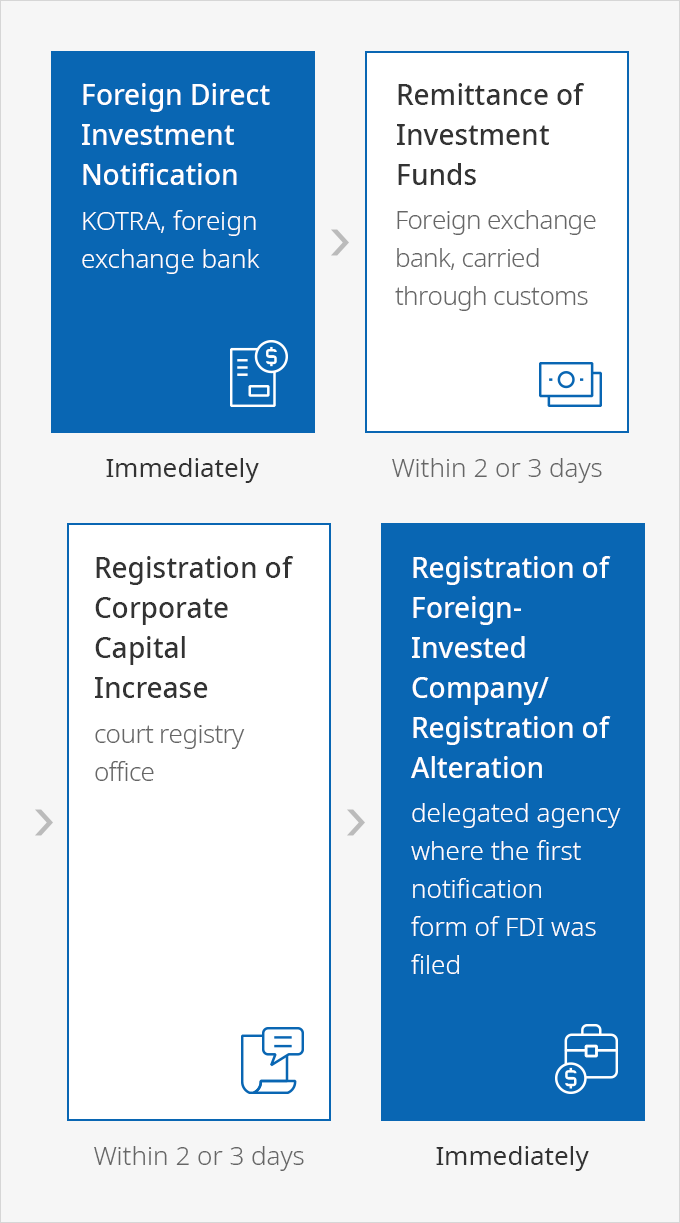 Foreign Direct Investment Notification KOTRA, foreign exchange bank(Immediately)
Remittance of Investment Funds Foreign exchange bank, carried through customs(Within 2 or 3 days)
Registration of Corporate Capital Increase court registry office(Within 2 or 3 days)
Registration of Foreign-Invested Company/Registration of Alteration delegated agency where the first notification form of FDI was filed(Immediately)
Foreign Direct Investment Notification
A foreign investor is required to make pre-notification of the foreign direct investment to KOTRA (Foreign Investor Support Center located in KOTRA headquarters or at an overseas KOTRA office) or a foreign exchange bank.
Remittance of Investment Funds
Proceed in the same way as the incorporation procedure.
Registration of Capital Increase
The registry division of the court accepts the application for the registration of capital increase, the completion of which takes two to three days. Required documents can be checked on the list of application forms and required documents from the Registry of Supreme Court Internet Register Office.
Registration of a Foreign-invested Company or Change in Notified Matters
Registration of a foreign-invested company or change in the notified matters shall be undertaken where the notification was first made (KOTRA headquarters or foreign exchange bank) as the last step of the FDI registration process.

REQUIREMENTS

Foreign Direct Investment Notification for Capital Increase
2 copies of the notification form

Attached Form 1 of the Enforcement Rules of the Foreign Investment Promotion Act: Notification of foreign investment by acquisition of stocks or contribution and application for its permission

Foreign investor's certificate of nationality

Foreign individuals: passport; foreign corporation or organization: business license, certificate of incorporation, or proof that the said corporation or organization is based in the said country
In case of non-cash investments
Documents certifying object of investment

e.g., documents certifying the monetary value of industrial property rights
Where an agent files an application : Power of attorney and the agent's identification (ID card)
※ Contact: KOTRA Investment Consulting Center (1600-7119)
Registration of Capital Increase (Registration of Change of Corporation)
Online Registry of Supreme Court www.iros.go.kr ▶ Library ▶ Registration application form ▶ Corporate registration ▶ Search (Registration of incorporation)
※ Contact: Corporate registration handling department of the Registry of Supreme Court (1544-0773→2→3)