Home
Daegu's New Future Industry
Water Industry
Daegu, a Global and Regional Hub City of the Water Industry
In 2015, the 7th World Water Forum was held under the theme "Water for Our Future" and was attended by over 40,000 people from 100 countries.

Korea International Water Week has been hosted to help the domestic water industry expand into overseas markets every year since 2016.

The Korea Water Cluster, which hosts water industry R&D facilities, verification plants, factories, etc. for over 150 water companies, was completed in June 2019 and the Korea Water Cluster Agency has been launched to provide water companies with one-stop support (development of new technologies → certification/verification → commercialization).

The Korea Institute for Water Technology Certification, the country's only integrated certification/verification authority regarding water industry technologies, was launched in November 2019.

Daegu is committed to becoming a global hub city of the water industry by developing at least ten world-class technologies, achieving export of KRW 1 trillion and creating 5,000 new jobs by 2025.
Development of the Korea Water Cluster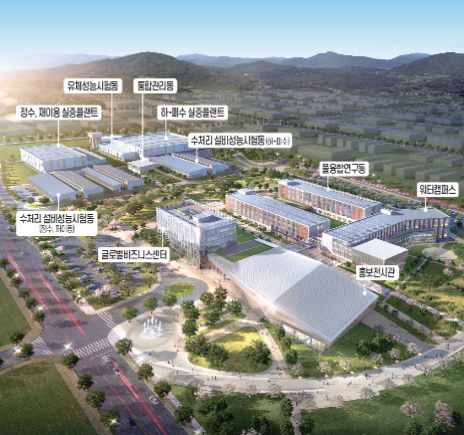 Development of the Korea Water Cluster
Developed on an area of 650,000㎡ within Daegu National Industrial Park (Sep. 4, 2019)

Period:

2015-Jun. 2019

Budget:

KRW 286.1 billion (state funding: KRW 240.9 billion, municipal funding: KRW 45.2 billion)

Key Facilities

Water Industry Promotion Center (70,000㎡):

Water Convergence R&D Center, Global Business Center, Water Campus

Test-Bed & Demo-plant (100,000㎡):

Verification plants for sewage, wastewater, reclaimed water and purification, and user-customized areas

Business Complex (480,000㎡):

50 mid-sized companies and strong SMEs

Factories, research institutes, leased offices, etc. for over 150 water companies
Launch of the Korea Institute for Water Technology Certification
Korea's only water technology certification authority launched based on the Act on the Development of Water Management Technologies and on the Promotion of the Water Industry, which was enacted in June 2018

A certification/verification authority that governs water-related materials or products, water purifiers, etc.