Home
Business Opportunities
Energy Industry
Korea's First Integration and Convergence Complex for the Energy Industry*
Area created to promote the integration and fusion and convergence of the energy industry and related industries
Target area:

Dosi Cheomdan, Cheomdan, Pyeong-dong, BitGreen Industrial Complex, etc

Date:

November 2019

Support details:

Support for the infrastructure and labor force training, the designation of specialized research institutes and support for research and development and management, support for international exchanges Support for companies that specialize in energy, implements preferential purchases
Expand Expand Research Infrastructure in the Energy Industry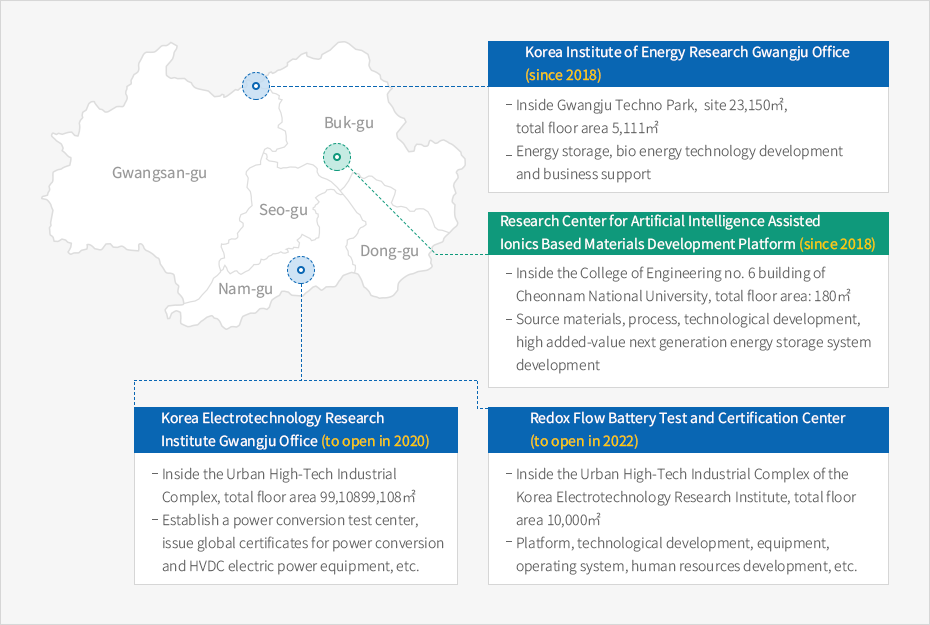 Korea Institute of Energy Research Gwangju Office (since 2018)

Inside Gwangju Techno Park, site 23,150m2, total floor area: 5,111㎡
Energy storage, bio energy technology development and business support

Research Center for Artificial Intelligence Assisted Ionics Based Materials Development Platform (since 2018)

Inside the College of Engineering no. 6 building of Cheonnam National University, total floor area: 180㎡
Source materials, process, technological development, high added-value next generation energy storage system development

Redox Flow Battery Test and Certification Center (to open in 2022)

Inside the Urban High-Tech Industrial Complex of the Korea Electrotechnology Research Institute, total floor area 10,000㎡
Platform, technological development, equipment, operating system, human resources development, etc.

Korea Electrotechnology Research Institute Gwangju Office (to open in 2020)

Inside the Urban High-Tech Industrial Complex, total floor area 99,108㎡
Establish a power conversion test center, issue global certificates for power conversion and HVDC electric power equipment, etc.