POSCO Int'l, Equinor tie up for Ulsan offshore wind project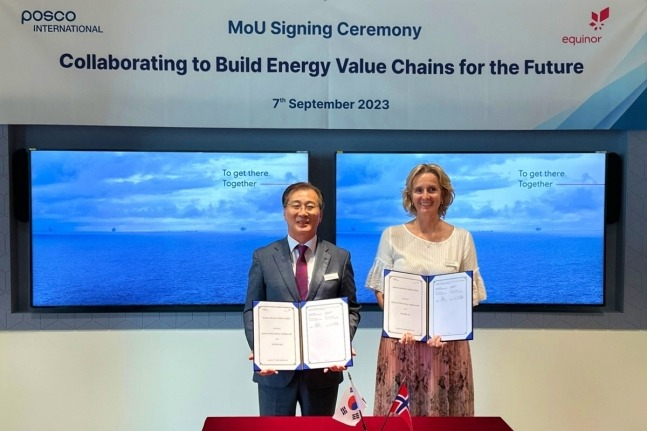 According to The Korea Economic Daily Global Edition,

POSCO International Corp., a South Korean energy and trading arm of steel behemoth POSCO Holdings Inc., signed a memorandum of understanding on Thursday with Norway's Equinor ASA for collaboration on eco-friendly energy initiatives.

The agreement centers on the shared development of the Firefly Offshore Wind Project, which aims to become the world's largest floating offshore wind farm.

The ambitious project, situated 70 kilometers off the coast of Ulsan, South Korea, will feature 50 wind turbines, each boasting a 15 MW capacity, culminating in a total capacity of 750 MW.

Unlike fixed offshore wind farms, floating wind farms are less disruptive to marine activities like fishing and benefit from more consistent wind speeds at sea, a POSCO source said.

In addition to offshore wind energy, the partners will deepen their cooperation in several eco-friendly arenas.

These include joint venture opportunities in the production of low-carbon hydrogen and ammonia, establishing steel supply chains for wind energy structures, and broadening their footprint across the liquefied natural gas value chain—from exploration to power generation.



Mi-Sun Kang at misunny@hankyung.com


Copyrights The Korea Economic Daily Global Edition. All Rights Reserved.
Reprint or redistribution without permission is prohibited.




Source: The Korea Economic Daily Global Edition (Sep. 8, 2023)