Home
About Ulsan
General Information
Ulsan is an energetic city leading the economic growth of Northeast Asia in the 21st century.
Northeast Asia's Strategic Industrial Stronghold
Ulsan, Northeast Asia's strategic industrial stronghold, is situated in the Southeastern part of the Korean peninsula and maintains a warm temperature all year round. It is blessed with an ideal natural environment and is rarely affected by storms or floods. Ulsan covers an area of 1,060 ㎢, which is 1.7 times the size of Seoul, with a population of 1.2 million.
Ulsan is strategically located in a point that connects oceans and continents, offering easy access to other regions. In addition, the city is reachable within a two-hour flight from major cities in East Asia such as Beijing, Shanghai, Hong Kong, Tokyo and Osaka. Therefore, its geographical location gives Ulsan an outstanding strategic industrial stronghold.
History of Ulsan
January 27,1962 Ulsan Specific Industrial Zone Designation (Elevated to Ulsan-si in June 1962)
January 1, 1995. Ulsan-si and Ulsan-gun integrated
July 15, 1997. Elevated to Ulsan Metropolitan Government
Locational Advantage of Ulsan
Strategic industrial hub of Northeast Asia
Easy access to sea and continent
Located with huge potential to be strategic base
Climate
(as of 2020)
Climate (2020) : Average temperature, January, August, Precipitation, January, August

| classification | Jan-Dec | Jan | Aug |
| --- | --- | --- | --- |
| Average Temperature | 14.1℃ | 2.0℃ | 25.9℃ |
| Precipitation | 671.4㎜ | 15.3mm | 69.8mm |
Northeast Asia's Central City with Vast Markets
Northeast Asia, including Korea, China, Japan and Taiwan, accounts for 25 percent of the world's population and 22 percent of the world's GDP, boasting the fastest economic growth in the world. Northeast Asia has become the growth engine of the world economy in 2020, producing 30 percent of the world's GDP. Ulsan is at the center of Northeast Asia, leading the world's economy with its dynamic and powerful growth engine.
Ulsan's share of the national economy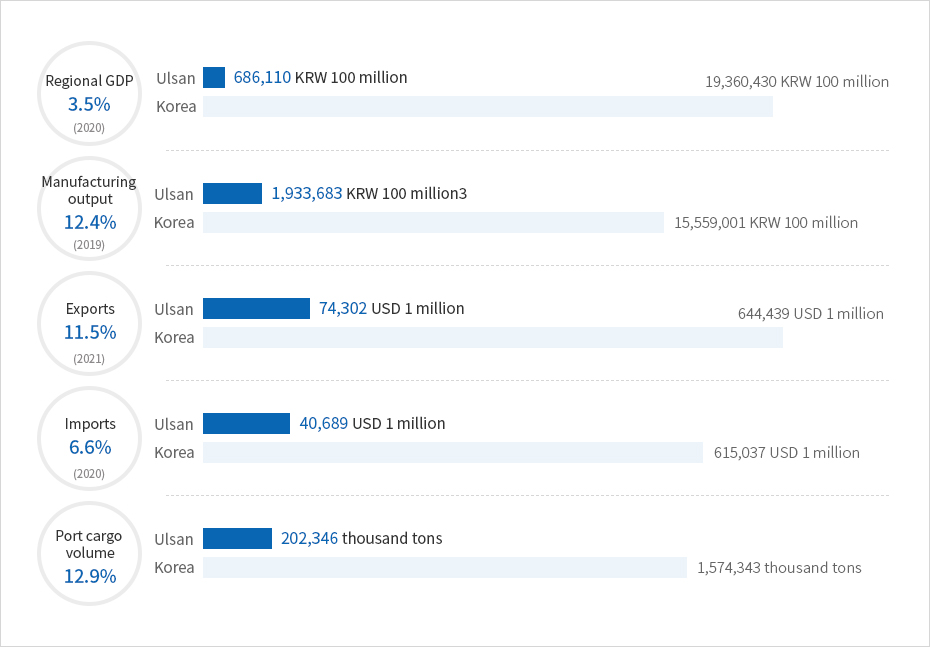 Regional GDP: 4.4% - KRW 71,236,400 million / KRW 1,635,555,400 million Manufacturing output: 11.8% - KRW 167,605,700 million / 1,419,070,100 million Exports: 11.6% - USD 6,663,800 million / USD 57,371,700 million Imports: 6.3% - USD 3,021,500 million / USD 47,841,400 million Port cargo volume: 12.9% - 202.346,000 thousand tons / 1,574.343,000 thousand tons

The Largest Industrial Cluster in Korea
Ulsan is home to the largest industrial cluster of petrochemical, shipbuilding & marine, and automobile industries. All industries closely cooperate to create a dynamic and innovative synergy with the connection of industries such as steel, machinery and port service in neighboring cities like Pohang, Changwon and Busan.
Ulsan is the representative industrial cluster in Asia, offering an attractive investment environment and various business opportunities for investors.
Key industries in Ulsan
Ecopolis, Ulsan
Beautiful natural environment
Ulsan is surrounded by the Yeongnam Alps, which includes seven mountains standing higher than 1,000 m, such as Gajisan, Shinbulsan and Ganwolsan. Every year, salmon, sweetfish and dace return to the clean and clear Taehwagang River that flows through the city. The city hosts many different festivals and events. It is a beautiful city next to the blue East Sea with stunning beaches including Jujeon, Jeongja and Jinha beaches.
Beautiful nature scenery
Taehwa River National Garden, Culture and sports facilities like Ulsan Culture and Arts Center, Ulsan Museum, Munsu World Cup Stadium, and Ulsan Grand Park, and other convenient facilities like department stores, mega stores, luxury hotels and general hospitals form a pleasant city along with a beautiful natural environment.
Sunrise at Ganjeolgot Point

Bangudae

Night view of Ulsan industrial complex from MT. Muryong

Reed plain of Mt. Shinbul

Taehwa River National Garden

Ulsan Exhibition & Convention Center