Home
Business Opportunities
Automobile Industry
Automobile Industry (No.2 as of 2019)
Around 260 auto-related companies located in Ulsan produce more than USD 36 billion a year along with the world's largest automobile plant of Hyundai Motors, which produces 1.55 million cars a year, and leading bus maker, Daewoo Bus Corp. Ulsan accounts for more than 23 percent of the nation's car production and exports USD 23 billion yearly, becoming the world's 5th largest automobile city.
Also, through the Green Car Technology Center that was completed in 2016, the city is actively developing eco-friendly cars such as EVs, hybrid cars and hydrogen fuel cell cars to reinvent itself as a core base for the electric car industry.
It became the first city in Korea that produced hybrid cars in 2009 and again became the first city in the world to commercialize a hydrogen fuel cell vehicle in 2013, exporting them to European nations such as Denmark and making Ulsan a leading city in the production of technology-intensive cars.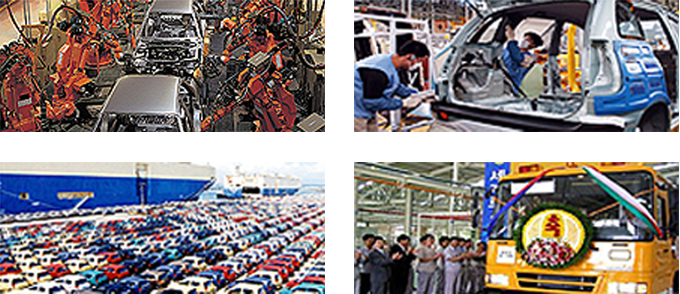 Status of Ulsan's Automobile Industries

Output(20.1%) - Ulsan: KRW 39,530,400 million, Korea: KRW 197,044,800 million Added-Value(18.0%) - Ulsan: KRW 10,177,200 million, Korea: KRW 56,533,600 million Number of Businesses(6.2%) - Ulsan: KRW 29.1 billion, Korea: KRW 466.6 billion Number of Workers(14.2%) - Ulsan: KRW 5,044,500 million, Korea: KRW 35,450,400 million