City of Rich Culture and Clean Environment
Home
Investment Strengths
Attractive Investment Climate
City of Rich Culture and Clean Environment
City of Rich Culture and Clean Environment
International Events and Conferences
2002 World Cup, 2003 Summer Universiade
Designated as an international conference city in 2005
Successfully hosted dozens of big international events- 2010 World Firefighters Games, 2011 IAAF World Championships, 2012 International Congress of Entomology, and 2013 World Energy Congress
Daegu Exhibition & Convention Center (EXCO): opened in May 2011
Location

: 1678 Sangyeok-dong, Buk-gu, Daegu Metropolitan City (within Daegu Distribution Complex)

Area

: site area 40,014㎡ (gross floor area: 145,994㎡), five story and four level below ground story building with exhibition halls (GIA: 22,159㎡), convention halls (GIA: 5,814㎡, 34 rooms), conference rooms (1,600 seats), outdoor plaza (2,000㎡), parking lot (with capacity of 1,450 cars), amenities
Hosted the World's largest annual exhibitions and fairs:exhibitions (51 times), conventions (conference included 800 times), local events (50 times) such as Int'l Green Energy Expo, Int'l Textile & Garment Expo, Int'l Fire & Safety Exhibition, Daegu Machinery Expo, ICT Convergence Expo Korea and World Robofest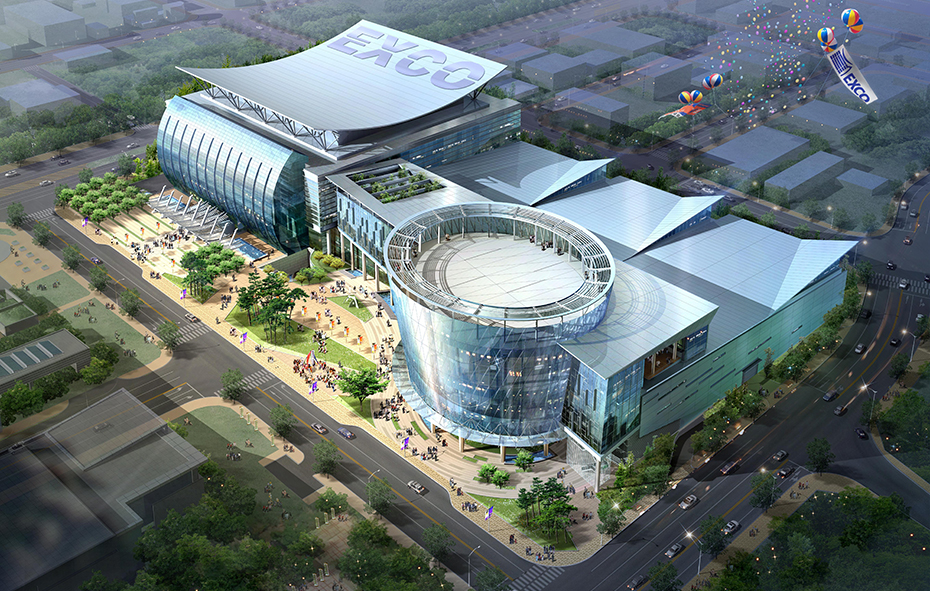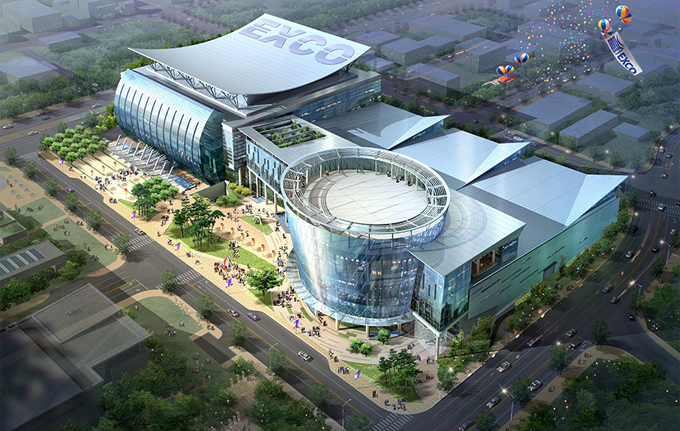 ※ The annual operation rate of EXCO in 2010 was 70%, showing that it has reached its saturation point. Daegu City is currently expanding EXCO to meet the rising demand for the Center and achieve balanced development of the exhibition and convention industry as a hub city of Daegu-Gyeongbuk region. EXCO will be expanded to 22,152m2 (the total floor space: 57,642m2) with five stories above and two stories below the ground (exhibition halls: 11,100m2, conference rooms: 1,800m2, auditoriums: 2,000m2, affiliated facilities: 42,742m2).
Exhibition centers of Korea (as of 2012)
Exhibition centers of Korea (as of 2012): KINTEX(Goyang), COEX(Seoul), BEXCO(Busan), EXCO(Daegu), KDJ센터(Gwangju), CECO(Changwon)
KINTEX
(Goyang)
COEX
(Seoul)
BEXCO
(Busan)
EXCO
(Daegu)
KDJ센터
(Gwangju)
Exhibition area (m2)
108,483
36,007
46,457
22,159
9,076
Operation rate (%)
44
78
47
50
70
※ Operation rate of Daegu EXCO: 70% in 2003, 72% in 2004, 68% in 2005, 70.3% in 2006, 72.2% in 2007, 73% in 2008, 67% in 2009
Leading City in Low Carbon & Green Growth
Plan to take World Energy Congress (WEC) as an opportunity to push forward Solar City Project (five-year plan starting from 2010)
Eco-friendly image will be established, and "green taxi" will be promoted as a brand of Daegu.
Carbon Credit Exchange and Greenhouse Gas Registry System will be jointly launched with North Gyeongsang Province.
Various Cultural Events
Festivals:

Daegu International Opera Festival, Daegu International Musical Festival (DIMF), Oriental Medicine Festival, Preview in Daegu (PID)

First oriental medicine special zone in Korea:

Yangyeongsi (drug market) and Yakjeon-golmok (medicine alley) with the history of 350 years