Home
Investment Strengths
Foreign-invested Companies – Success Stories
Taegutec
Taegutec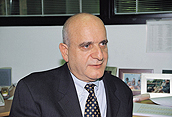 Overview
Taeugutec is Korea's largest manufacturer of tungsten cutting tools and hard metal tools with the only integrated tungsten production plant in the world. The company is accounting for more than 60% of domestic production. Taegutec, as Daegu's representative foreign-invested company, affiliated with ISCAR headquartered in Israel, earned reputation for its excellent global marketing and large production capacity. It has overseas branches in 12 countries in Europe, Asia, and America, over 80 Taegutec sales agencies around the world, and factories in India and China.
General Status
Investor

: ISCAR, Israel

Founded in August,

1998

CEO

: Moshe Sharon

Number of employees

: 900

Key products

: Tungsten carbide cutting tool, ceramic cutting tool

Address

: 304 Yonggye-ri, Gachang-myeon, Dalseong-gun, Daegu Metropolitan City
History
September 1952

: Established "Korea Tungsten Co. LTD."

August 1998

: Acquired by ISCAR headquartered in Israel, changed the company's name to TaeguTec Ltd.

February 1999

: Relocated company headquarters to Daegu
Competitiveness and Vision
Taegutec's strength lies in its leading production facilities, superb human resources management system, and global marketing. Almost 10% of workforce is concentrated on R&D, all committed to advancing technologies at the company's comprehensive technology institute, one of the largest in the industry. Taegutec's India plant, established in 2000, has been fully meeting local demand. Building on these achievements, Taegutec set a goal of becoming the world's top ten tool maker through additional investment in infrastructure and expansion of overseas sales network.